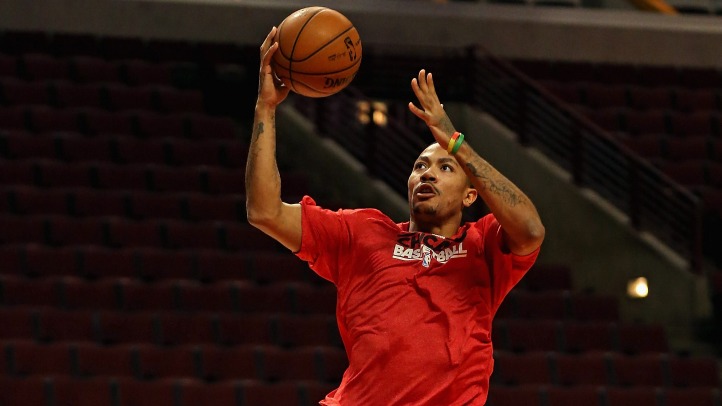 Derrick Rose was held out of Wednesday's Chicago Bulls practice at the Berto Center as he continues to receive treatment on his injured right hamstring.

Rose suffered the injury late in the fourth quarter of Monday night's matchup with the Cleveland Cavaliers, but later downplayed the severity of it.
"He's doing a little better. We held him out, so he didn't practice. But he did rehab work, so we'll see where he is [Thursday]," Tom Thibodeau told reporters after practice. "He came in [Tuesday]. They [the Bulls' medical staff] felt it was minor. There wasn't a need for an MRI. So he said he was feeling better. He's moving a lot better."
Chicago will take on the Toronto Raptors on Friday night on the road before returning home to play the Indiana Pacers on Saturday night at the United Center. Thibodeau would not say if Rose would suit up and play on Friday.
"We're just going to see where he is," said Thibodeau. "If he can play, he'll play. If he can't, he'll sit. Just taking it day by day. Derrick needed rest, so it's good for him."