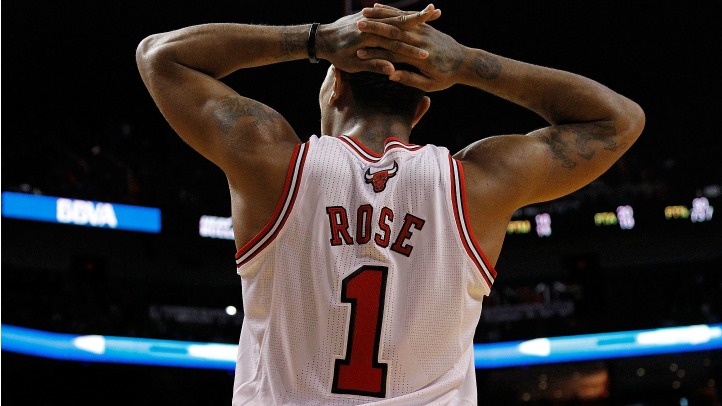 According to Tom Thibodeau, Derrick Rose is "unlikely" to play Friday night against the Toronto Raptors. And if you're fluent in Thibs-speak, that means his star point guard won't be taking the court.
"He's a little better, but we're going to hold him out of practice this morning, so we'll see where he is," Thibodeau said to reporters before the team's morning shootaround. "It's between he and Fred [Tedeschi, the team's head athletic trainer]. They've got to decide. If he can go, then we want him to go. If he feels like he can't go, then we don't want him to go."
Rose's own assessment differed from that of his coach, however.
"If it feels tight or any soreness, there's no point," Rose said. "But if I go out there and it loosens up, and I'm able to move the way I normally move, I don't see why I couldn't play."
The team has seemed to adopt a better safe than sorry policy when it comes to player injuries, but even more so with Rose who's already missed an entire NBA season with a torn ACL. Rose said he doesn't feel any pressure from up high on whether to sit or play, saying the final decision is his. But he does respect management's opinion.
"Oh yeah, my decision at the end," he said. "So be smart. At the same time, know that we've got a back-to-back. But go out here and see really how it feels, and I'll decide from there. Management and the training staff really just tell me to take my time. This is my first hamstring injury. We've just got to be patient with it."