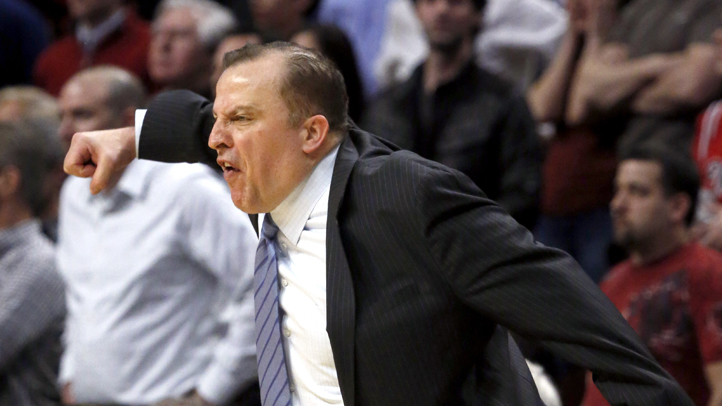 Andre Iguodala's 3-pointer with 7.1 seconds left in overtime sent the Denver Nuggets to their 12th consecutive win, a 119-118 victory over the Chicago Bulls on Monday night.
Reserve Wilson Chandler led the Nuggets with 35 points, Corey Brewer added 16 and Ty Lawson 13.
Iguodala finished with 12 points and 10 rebounds, and Andre Miller had 13 assists.
Nate Robinson scored 34 points for Chicago, which lost for the seventh time in 11 games. Luol Deng added 21 points, Marco Belinelli scored 18, and Joakim Noah had 12 rebounds and 14 points.
It was the 12th time in the last 13 games that Denver scored 100 or more points, and marked the first time in seven games that an opponent has scored 100 points on the Nuggets.
Chicago opened overtime with back-to-back baskets from Noah and Boozer to take their biggest lead of the night, 109-105.
Lawson's 3 with three minutes left got Denver within 111-110. Iguodala sank a pair of free throws to put the Nuggets back ahead 112-111.
Chicago took the lead 117-116 with 32.8 seconds left when Noah tipped in Robinson's missed layup.
Robinson then made one of two free throws left with 16.9 seconds left to give Chicago a 118-116 lead, setting the stage for Iguodala's winner.
Chicago looked like it might pull it out when Noah grabbed Belinelli's shot and sank it with 1.7 seconds left, but a review of the play ruled offensive interference on the Bulls.
Chicago's final inbound pass was tipped away, icing Denver's win.
Denver opened the fourth quarter with a 4-0 run to go up 83-73. But Robinson's four-point play closed the score to 83-79.
Chicago brought Denver's lead down to 96-91 with 3:41 left. Iguodala hit a 3 before Robinson countered with his own to make it 99-94 with three minutes left.
Robinson's 3-pointer tied the game 105-all with 13.4 seconds. Lawson last-second jumper fell short, sending the game into overtime.
After scoring just two points in the first half, Kenneth Faried scored six points early in the third quarter to keep Denver ahead. Chicago closed Denver's lead to five points early in the third quarter, 61-56, but the Nuggets went on a 9-4 run to go up 70-60 and ended the third period ahead 79-73.
Chandler came off the bench to score nine points in the first quarter to stake the Nuggets to a 21-20 lead heading into the second quarter.
Denver jumped ahead by 14 points at several points. Chandler scored 11 points to give him 20 in the first half, and Denver went into the break leading 53-45.
Copyright AP - Associated Press