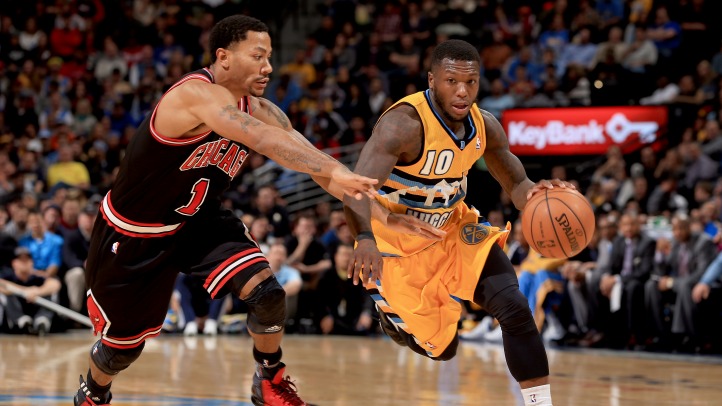 The Chicago Bulls' five game-winning streak came to an end Thursday night with their 97-87 loss to the Denver Nuggets at the Pepsi Center. Chicago is just 1-12 in the Rocky Mountains and have not won a game in Denver since 2006.
"We didn't play our normal style of defense and certain players off their bench kind of hit some tough shots. Nate hit a couple of tough threes late. It was tough," Taj Gibson told CSN Chicago after the game. The power forward was ejected late in the fourth quarter after demonstratively calling for the ball to the referee on a Bulls inbounds play. It was his second technical foul of the game.
The Bulls shot 39 percent in the game from the field and 30 percent from the three-point line, while also committing 18 turnovers. Denver went on a 13-0 run to start the fourth quarter and Chicago trailed by as many as 21-points in the final stanza.
"Individually, we tried to do things and it wasn't working. But if anything, we can learn from this," said Derrick Rose who scored 19 points in the game, but managed to contribute just four points in the second half. "When we're playing against a team like this, we've got to be disciplined and get back in transition because they're a team where anybody can shoot any random shot, and some of the guys that were off the bench came in and produced big for them."
Denver's bench outscored Chicago's 49-21 and were led by Jordan Hamilton (17 points) and former Bulls guard Nate Robinson who scored 13 points, including two big three-point shots to open the fourth quarter.
"We got hurt with some dribble penetration. We lost Nate [Robinson] a couple times and it gave them a cushion, and they got away from us and then we had to fight to try to get back in it," said Tom Thibodeau. "I didn't like the way we started defensively in the first quarter. I thought the offense was really good. Second quarter, we hit a bit of a lull. Third quarter, not so good, and then we fought back and could have crawled back into it, but we had a couple mistakes we've got to correct."
Notables:
The Bulls outrebounded the Nuggets 58-48… Joakim Noah (11 points, 12 rebounds) and Carlos Boozer (15 points, 10 rebounds) both had double-doubles… Luol Deng grabbed 13 rebounds but shot the ball poorly (3-18 from the field, 1-10 in the second half) and scored just six points… Mike Dunleavy Jr. started in place of the injured Jimmy Butler and scored 15 points on 6-11 shooting from the field… Chicago outscored Denver in the paint 50-36 and second chance points, 24-15