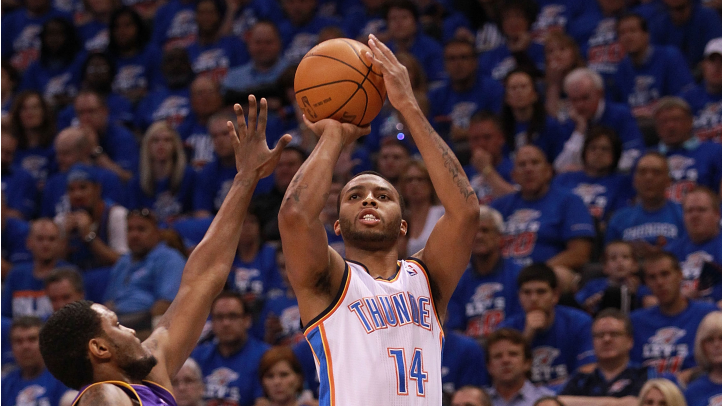 The Houston Rockets on Wednesday waived little-used sharpshooting guard, Daequan Cook, to sign free agent swingman James Anderson.

On Friday, ESPN's Marc Stein tweeted that Cook was scheduled to clear waivers at 4 p.m. CT and if no one claimed him, the Chicago Bulls would be the front-runner for his services.
Buried on the bench in Houston after coming over from the Oklahoma City Thunder in the James Harden trade, Cook appeared in just 16 games this season for the Rockets, averaging career-lows in points and minutes. But when given minutes, Cook has proven that he can play and he is an exceptional three-point marksman who shoots it at a 37 percent clip for his career.
He also comes cheap, too. The cash-strapped Bulls have just enough room under the cap to add a minimum-salary player for the rest of the season.
Considering the way Marco Belinelli performed as a starter, acquiring the 25-year-old Cook signals the team is comfortable with Belinelli being the starter at the two guard slot. This of course means the eventual departure of veteran Rip Hamilton who will turn 35-years-old on Valentine's Day.
When healthy, Hamilton, in his 13th NBA season, has played well. But injuries have been a constant for him since his arrival in Chicago and he is clearly not the player he once was.
The Bulls had gone 7-3 with Belinelli in the starting lineup before two bad losses, back-to-back, against the Atlanta Hawks and the aforementioned Rockets. But he showed the type of skills that impressed Derrick Rose enough to cite Marco as the "new guy" who had impressed him the most when the Bulls opened training camp.
Belinelli is also no stranger to being an NBA starter. He's played nearly half the games of his career in that role.
If you're a frustrated Bulls fan, you're just happy the organization is doing something to try and shake up what has been a monotonous 17-13 season. Daequan Cook is a solid NBA player and adds a legitimate threat from long-range – he won the 3-point shoot out in 2009 – something the Bulls certainly don't have enough of.
We could actually look back on this someday as one of management's cost cutting moves that actually went right and that fans seemed to approve of.
Follow "Outside Shot" on Twitter (
@Outside_Shot
) for more Bulls news and information.