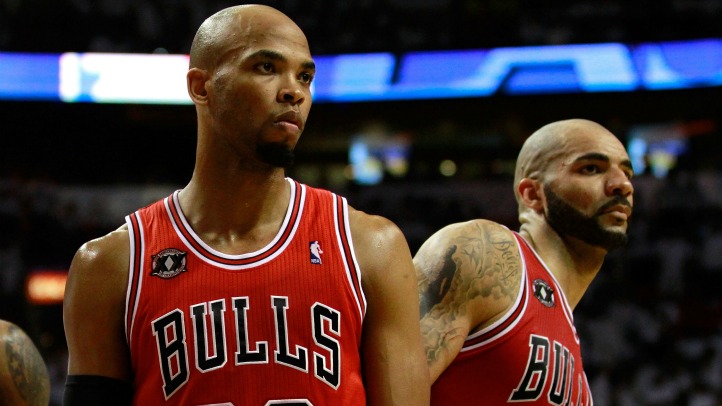 Although hoping he would be able to suit up against the Atlanta Hawks Tuesday night, Carlos Boozer was once again sidelined with a strained left calf. The Bulls big man has missed the team's last three games.
Tom Thibodeau lists his power forward as day-to-day, and Taj Gibson once again got the start in his place, putting up 24 points and grabbing 12 rebounds in the Bulls 100-85 victory.

Gibson has been playing the best basketball of his career this season and is averaging 22.0 points and 9.5 rebounds in 34 minutes per game in his last two starts. Both he and Joakim Noah complement each other well in the frontcourt and Tom Thibodeau has been raving about the play of Gibson of late.
"Taj has had a terrific year, so whatever we ask him to do he does," Thibodeau said. "You can play him short minutes, long minutes, doesn't matter; start him, finish with him, play multiple positions, does whatever you ask. He's a total team guy."
"I worked on my post game, my jump shot, just things you have to work on in the NBA. But the main thing was confidence. You can work out 100 hours a day, but without confidence it's nothing," Gibson said of his strong play. "I've got a great group of guys that believe in me. I've got a great coach that believes in me and I'm just taking it in stride."