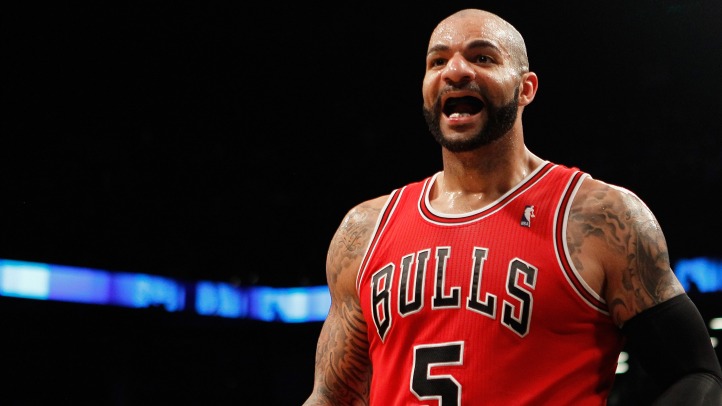 Chicago's annual "Circus Trip" is always a time for the team to bond and come together. Of course, being on the road for two weeks and living out of your suitcase sort of fosters that team building environment.
"It's exciting, man," said Carlos Boozer after the Bulls victory over the Bobcats. "We get a chance to bond a little bit on the road. We leave our families here, our friends here, we get together and it's just us."
Last season, the Bulls went 2-3 during their West Coast road swing, but that was without Derrick Rose and a roster full of guys unfamiliar with one another and still trying to find an identity without their superstar. But the Bulls seemed to have found their groove after a 1-3 start to the season and will be tested against the likes of the Denver Nuggets (4-6), Portland Trailblazers (9-2), Los Angeles Clippers (7-4) and Utah Jazz (1-11) in the West, before coming back East and taking on the Detroit Pistons (3-6) and the Cleveland Cavaliers (4-7).
Obviously, only the Trailblazers and Clippers have winning records, but Denver is always a tough place to play and between the Pistons, Cavs and Jazz. They're certainly capable of pulling off an upset, so the Bulls have to be ready.
Six games in 10 days; that's a lot to ask of any team. But the good thing is we'll know a whole lot more about these Bulls once this road trip ends.
"We go into every arena -- and don't get me wrong, we do have some Bulls fans on the road as you guys know -- and it's just us against whoever we're playing against and their whole arena. That also builds character, so we're looking forward to it," said Boozer who added later that the tough game against Charlotte and having to grind out an ugly win should help them on their trip.
"We take that with us on the road," he said. "We know that no matter what the situation might be, we can pull it out and win. That's the confidence you have to have to be a championship team."