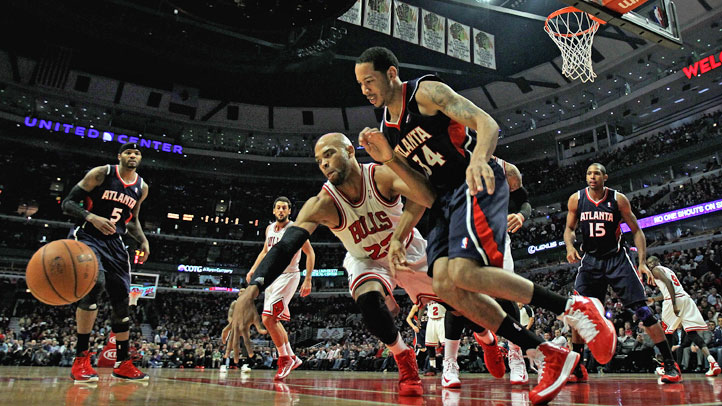 Carlos Boozer had 20 points and 13 rebounds, Luol Deng scored 18 points and the Chicago Bulls held Atlanta to a franchise-low 20 points in the first half of a 97-58 victory over the Hawks on Monday night.
Reserve forward Mike Scott scored nine points to lead Atlanta as none of the starters reached double figures. Josh Smith and Kyle Korver had nine points each.
Jeff Teague had a layup with 7.9 seconds left to prevent the Hawks' lowest scoring total in franchise history.
Atlanta has lost five straight on the road and six of seven overall.
The Bulls held the Hawks to just five points in the second quarter and led 48-20 at the break. Ivan Johnson had a basket for the Hawks with 2:54 left in the first quarter, and Atlanta did not score again until Al Horford's tip with 5:15 left in the second. The Hawks missed 17 consecutive shots during the drought while getting outscored 14-0.
They finished the 2 for 21 from the field in the second quarter, with Smith making a free throw and a jumper for Atlanta's other points. The Hawks shot 20.5 percent on 8-of-39 shooting in the first half. Josh Smith was 3 for 10 Horford 2 for 8 in the opening two periods.
Boozer had 14 points and Deng eight to help the Bulls to their halftime lead. Noah had 12 rebounds in the half and finished with 16 and nine points.
The Bulls set a record for the fewest points allowed, eclipsing the previous mark of 59 by Orlando last March 19. Atlanta's 20 points in the first half also set a Chicago record for the fewest allowed in a half, bettering the 22 scored by the Knicks in 1999. The Bulls also limited New York to five points in the second quarter of that game.
The Hawks' previous scoring lows were six points in a quarter (at Minnesota) in 1994, 25 in a half — accomplished three times, most recently against New Orleans in 2011.
Tensions heated up in the third quarter. After Hamilton was called for an offensive foul on Devin Harris, Harris pushed Hinrich hard to the floor as he was attempting a layup. Hinrich had to be restrained by teammates after he rushed toward Harris, who was called for a flagrant one. In seperate incidents, Teague and Smith were called for technicals in the third quarter.
Taj Gibson, who had five blocks, got fans on their feet with a thunderous dunk over Anthony Tolliver to put the Bulls up 79-47 with 7:13 left.