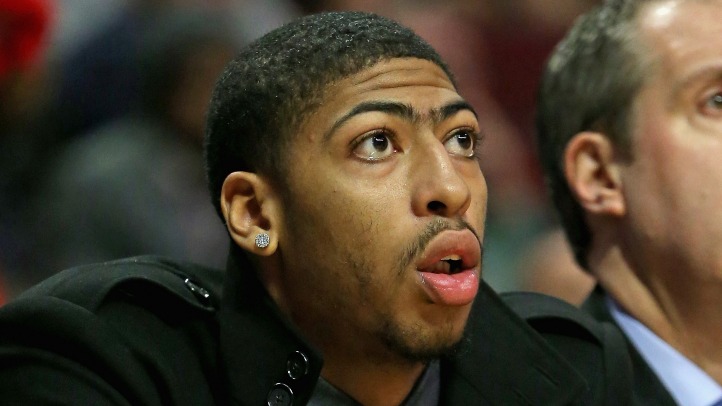 Anthony Davis was on the New Orleans Pelicans sidelines cheering on his teammates in a suit instead of his No. 23 uniform trying to help his squad earn a victory over his hometown Chicago Bulls. The former No. 1 pick missed his second consecutive homecoming game after suffering a non-displaced fracture in his left hand in a win Sunday over the New York Knicks.
His head coach, Monty Williams, said Davis was really looking forward to playing at the United Center for the first time as a professional after being knocked out of his debut as a rookie last season with a concussion.
"He certainly wanted to play here, and it's one of the first things that he said to me when I got back in the locker room," said Monty Williams. "He was like, 'Two years in a row.' It took me a minute to realize what he was talking about. He just really wanted to play here. I feel bad for him."
After an injury-riddled rookie campaign, Davis was having a breakout season averaging 19 points, 10 rebounds and nearly four blocks per game – good for tops in the NBA. The Englewood native was also shooting 50 percent from the field and 85 percent from the free-throw line this season.
But despite not being able to suit up, his family and friends – just like last year – still came out to support, even going so far as to rent a party limo to travel to and from the game.
As for Davis, no timetable has been set for how long he'll be out as he'll be re-evaluated in New Orleans on Tuesday.
"We're probably going to wait until we get home and he can see our doctors before we make any (decisions), at least on my part," Williams said. "I haven't gotten any more information. We've just got to wait until we get home."