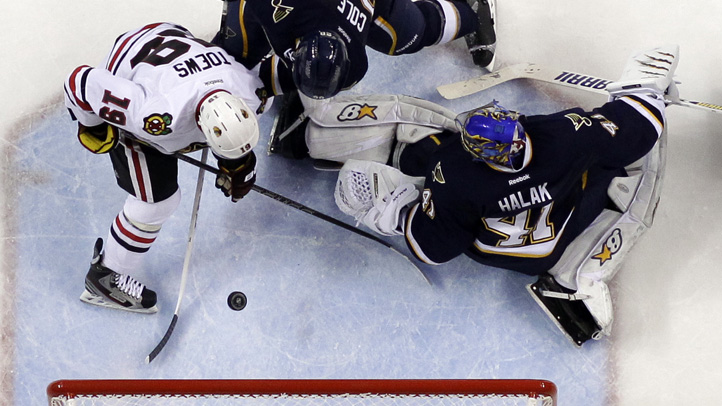 Jonathan Toews scored twice, and Ray Emery and Corey Crawford combined on a shutout as the Chicago Blackhawks extended their NHL-record season-opening points streak to 20 games with a 3-0 win over the St. Louis Blues on Thursday night.
Andrew Shaw also scored for Chicago, which was coming off a 6-0-1 homestand and improved to 9-0-2 on the road. The Blackhawks, who have won seven in a row overall, have earned 37 out of a possible 40 points this season with a 17-0-3 start.
Chicago has a point in its last 26 regular-season games since a loss on March 25, 2012, to Nashville.
Chicago, playing its first road game in 18 days, has won four in a row against St. Louis, which has lost three of four.
Crawford was pulled with an upper-body injury after making six saves in the first period. He missed four games earlier this month also with an upper-body injury and returned to the lineup Sunday, making 28 stops in a 1-0 win over Columbus. Coach Joel Quenneville said after the game that Crawford is day to day, and it wasn't the same injury that previously sidelined the goalie.
Emery made 15 saves over the final two periods, as he and Crawford finished with 21. He stopped Chris Stewart from close range midway through the second period. Kevin Shattenkirk hit the post on a second-period power play.
Toews scored his eighth goal of the season just 12 seconds into the game off a cross-ice pass from Brandon Saad. Marian Hossa started the play after Toews won the game's opening faceoff. The goal was the fastest at the beginning of a game by a Chicago player since Dave Bolland scored 10 seconds into a 4-1 win against Dallas on March 16, 2012.
Toews also scored on a scramble in the front of the net at 6:53 of the third period.
Shaw made it 2-0 early in the third period when he converted from the slot off a pass from behind the net by Bryan Bickell.
Jaroslav Halak made 20 saves for the Blues, who fell to 4-5-1 at home. St. Louis was 30-6-5 at home last season. Halak lost for the first time in regulation this season.
St. Louis is 0 for 13 on the power play over the past five games. The Blues' last home shutout was a 6-0 loss to Calgary on March 1, 2011.
Copyright AP - Associated Press