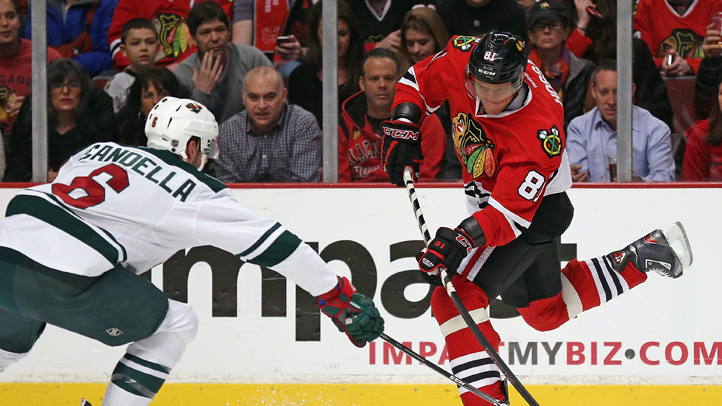 With the Chicago Blackhawks Convention over and the offseason in full swing, Madhouse Enforcer will be evaluating the performances of the 2013-14 Blackhawks. What did they do right? What did they do wrong? What can they improve upon for next season?
Today we examine the season of one of the team's foremost players, as Marian Hossa's campaign is put under the microscope.
The Good:
Hossa entered the season with question marks surrounding his health after a back injury slowed him during the team's 2013 Stanley Cup run, and for the most part he passed the test with flying colors. In the 72 regular season games that he played, Hossa had 30 goals and 30 assists, putting him just five points shy of 1000 for his career and helping the Hawks through some tough times as Jonathan Toews and Patrick Kane missed time at the end of the season.
Once again though, Hossa's biggest contribution to the team wasn't necessarily his offense, but rather his two-way play. Playing for a good chunk of the season with Toews and Patrick Sharp, Hossa's back-checking and smart positioning on defense prevented opponents from creating opportunities in transition, and as a result he finished in fifth place in Selke Trophy voting, the highest finish for any winger in the league.
The Bad:
There were a couple of quibbles about Hossa's game this season, but none were bigger than in criticizing his performance during parts of the playoffs. Against the Minnesota Wild in the second round, he was positively excellent with a goal and eight assists, but in the other two series, Hossa only managed one goal and four assists in 13 games against the St. Louis Blues and Los Angeles Kings.
Part of that had to do with the quality of defenses the Hawks were going up against, but there were also times in the Kings series especially that Hossa simply looked gassed. Whether that's a sign of things to come in the future or a one-off thing remains to be seen, but it wasn't good to see the Hawks' top line grind to a halt as Hossa struggled to find his game.
Best Game of 2013-14:
There are several games to choose from when it comes to picking a classic Hossa game from last season, but the one we went with was the team's mid-March matchup against the Detroit Red Wings. In that game, Hossa played over three minutes of short-handed time, 2:30 of power play time, and for good measure scored a goal and dished out two assists in a 4-2 victory.
It was the quintessential Hossa game for the Blackhawks. He played solid defense, got on the scoresheet with a couple of brilliant plays, and imposed his will at both ends of the ice.
Outlook for Next Season:
It's unclear at this point which players will join Hossa's line next season, but it seems as though he will once again be paired up with Toews, with Brad Richards likely serving as Kane's center. Whatever the case may be, the Hawks will need Hossa to stay as healthy as possible, and they'll need him to provide his trademark mix of offense and defense in order to find success with his line.