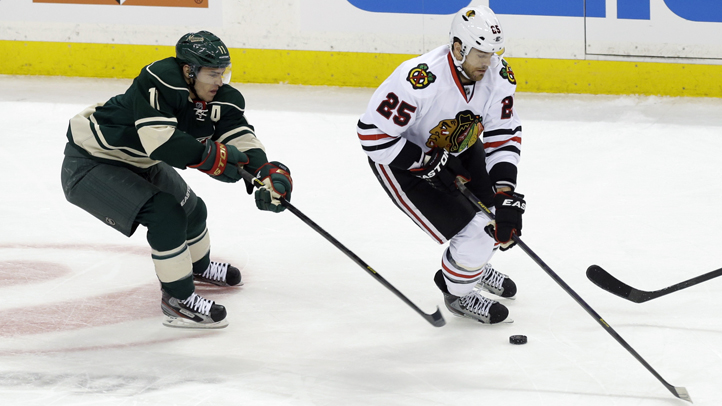 Marian Hossa's unassisted goal late in the second period lifted the NHL-leading Chicago Blackhawks to their fifth win in six games, 1-0 over the Minnesota Wild on Tuesday night.
Ray Emery started for the Blackhawks for the third straight game and made 20 saves for his second shutout in that stretch and third of the season. He helped hand the Wild their fifth loss in seven games.
Hossa looked like a Bears defensive back jumping in front of a wide receiver's route when he darted in front of Clayton Stoner's seemingly harmless breakout pass toward Mikko Koivu in the Wild zone.
Hossa intercepted the bouncing pass in front of the blue line, skated up the middle and snapped a shot past goalie Niklas Backstrom's stick with 4:46 left in the period.
It was Hossa's first goal since March 16 at Dallas. He missed six games in that scoreless stretch because of an upper body injury, but Hossa is still second on the team with 14 goals.
The Blackhawks enjoyed an even bigger boost when Patrick Sharp returned from a 14-game absence due to a shoulder injury. Chicago went 4-5 over those first nine games without Sharp before getting back on track, but the NHL's top-scoring team is equipped with enough exceptional offensive skill on its forward lines that it didn't miss much of a beat.
The Blackhawks' attack was on point Tuesday, another relentless performance with the puck. Hossa nearly scored in the first period when he tried to poke a loose puck past Backstrom. The officials couldn't see that Backstrom didn't have control of it under his arm, and blew the whistle.
The first team in the NHL this season to clinch a spot in the playoffs, the Blackhawks outshot the Wild 31-20 to move one step closer to securing the top seed in the Western Conference playoffs.
They are five points ahead of second-place Anaheim and have a game in hand over the Ducks. The Blackhawks (30-5-4) are 16-2-2 on the road, by far the best mark in the league.
The Wild (22-15-2) put themselves in prime position for a spot in the postseason for the first time in five years by going a franchise-best 11-4 in March, but they are far from safe with just a five-point edge over ninth-place.
They had their chances, particularly when Cal Clutterbuck got his rebound attempt behind Emery but not enough to nudge it past the goal line. Clutterbuck's second swing missed, and Emery gained control.
The Wild's biggest blow came before the game when they learned right wing Dany Heatley, third on the team with 11 goals, will miss the remainder of the regular season and the playoffs following surgery on his left shoulder.
Copyright AP - Associated Press