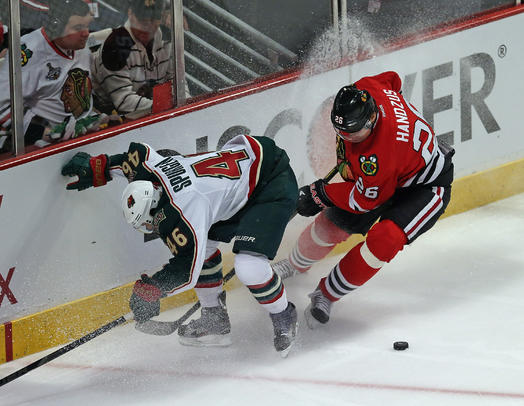 There is no word yet on whether or not Chicago Blackahwks center Dave Bolland will be returning to the lineup for the Hawks on Tuesday night, but that isn't the only lineup decision that head coach Joel Quenneville will face.
His team looked pretty out of sorts in their game on Sunday afternoon, missing plenty of wide open passes and simply looking outmatched by the tempo at which the Minnesota Wild were playing. In addition, the physicality that the home team showed against the Hawks threw Chicago off their game.
Finally, Quenneville may have to address the lackluster play that he has seen from second line center Michal Handzus. A dynamo during the regular season, Handzus has been losing a ton of face-offs (58 percent of them, to be exact), and he has one assist and one shot on goal during the first three games of the team's series against Minnesota.
Quenneville addressed the sluggish play of his veteran center on Sunday by shifting his lines around, pulling Marcus Kruger up to the second line and putting Patrick Kane on a reconfigured first line with Jonathan Toews and Patrick Sharp. The changes didn't yield immediate benefits, but when the chips were down and the Hawks had to go full bore to try to tie the game late, they did manage to get some sustained pressure, and a goal from Duncan Keith late in the third was the result.
The question then is whether or not Quenneville needs to shake things up with his lineup. If Bolland comes back, then the logical candidate to leave would be Brandon Bollig, who is logging fourth line minutes and not an asset in either area in special teams. If Bolland cannot come back, then it would be smart on the part of Quenneville to insert Jimmy Hayes into the lineup in place of Bollig.
This is not to say that Bollig has not been playing solid hockey during the playoffs. The fact of the matter is that he has been doing a good job of staying disciplined, and has been doing his fair share of hitting back whenever the Wild have been upping their physical game in this series. When push comes to shove though, Bollig isn't enough of an offensive asset to warrant much ice time, and Hayes would fit in much better on a fourth line with Kruger and Michael Frolik.
In terms of where Handzus fits into the lineup, it depends on the other circumstances surrounding the team. If Bolland comes back, odds are that he will be slotted back onto the second line, with Handzus getting bumped down to the third line with Bryan Bickell and Viktor Stalberg. Andrew Shaw would then move down to the fourth line, either playing center between Frolik and Kruger or shifting over to wing, depending on what role Quenneville would rather him fill.
Simply put, the Blackhawks are in an advantageous playoff position due in large part to the depth of their roster, and bringing Bolland back into the lineup is a good reminder of this. It may take a game or two for everyone to get more acclimated to where they are moved around to when Bolland comes back, but considering how well most of Quenneville's changes have worked out this season, the odds are that the new configurations will have similar success to the old ones.