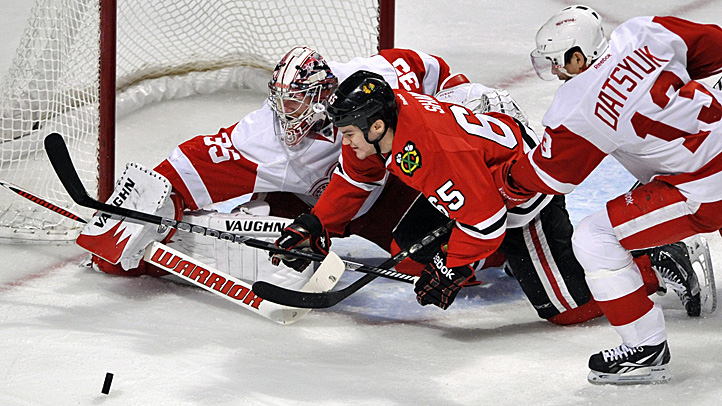 Brandon Saad scored in the fifth round of the shootout after Jonathan Toews tied the game late in regulation, and the Chicago Blackhawks clinched the Central Division title with a 3-2 victory over the Detroit Red Wings on Friday night.
With St. Louis losing to Columbus earlier Friday, the Blackhawks wrapped up the Central race for the first time since 2010 when they won the Stanley Cup.
Chicago also increased its lead over Anaheim for the top seed in the Western Conference playoffs to six points.
The shootout was tied 1-1 when Saad beat Jimmy Howard with a backhand shot. Corey Crawford then stopped Johan Franzen, sealing the win and giving the Blackhawks a four-game season sweep over Detroit.
The Blackhawks were trailing 2-1 when Howard made a big pad save on Michael Frolik in the closing minutes. The puck ended up at the left point, and Johnny Oduya's shot hit traffic in front. Toews then fired in the loose puck for his 20th goal, tying it with 2:57 left in regulation.
Chicago then had a 2-on-1 rush, but Bryan Bickell's shot with about 50 seconds left hit the left post.
The Blackhawks had a chance late in overtime when Viktor Stalberg sprinted down the right wing and tried to center the puck to Patrick Kane. The puck appeared to hit a Detroit defender, and Howard swept it aside.
Stalberg beat Howard with a wraparound shot early in the second period. Two quick goals by Franzen and Cory Emmerton late in the period gave Detroit a 2-1 lead, but the Blackhawks answered down the stretch, winning their final game against the Red Wings as division foes.
The teams have played 725 times, more than any other two NHL teams, but the rivalry between the Original Six franchises will have a different look next season because Detroit is headed to the Eastern Conference. The teams will go from playing six times per season to just twice.
Copyright AP - Associated Press