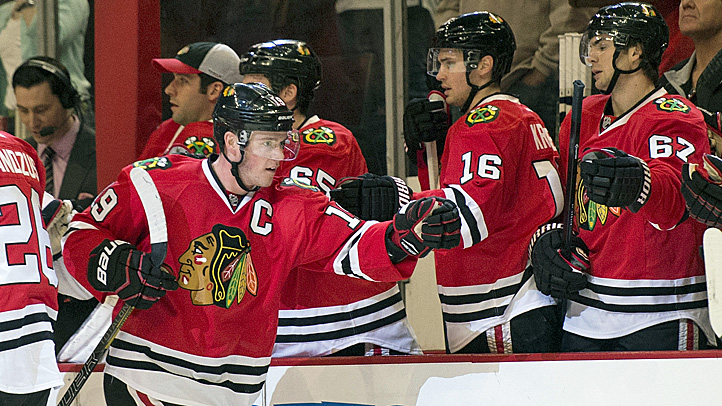 Patrick Kane and Jonathan Toews scored 3:28 apart in the first period, and the NHL-leading Chicago Blackhawks beat the Calgary Flames 3-1 on Friday night.
Marcus Kruger added a goal in the third period for the Blackhawks, who are 11-1-2 in their past 14 games. Chicago (36-6-5) will wrap up the regular season on Saturday at St. Louis.
Corey Crawford was sharp in making 25 saves and keeping the Blackhawks in the lead throughout. The only goal he allowed was Chris Butler's short-handed tally — Butler's first goal in 65 games.
Joey MacDonald stopped 35 shots in the final game of the season for the Flames (19-25-4), who failed to qualify for the playoffs for the fourth straight year.
The Blackhawks clinched the Presidents' Trophy, given to the NHL team with the best regular-season record, on Wednesday.
Kane and Toews both have a team-leading 23 goals. Kruger's score was his first goal in 32 games.
The Flames skated without several injured regulars, including Alex Tanguay, Jiri Hudler, Curtis Glencross, Tim Jackman, and rookie Sven Baertschi. Calgary coach Bob Hartley was forced to use a lineup loaded with young players.
Chicago goalie Ray Emery, who is 17-1, sat out because of a lower body injury, so Carter Hutton backed up Crawford.
Entering the game, Crawford and Emery had combined to give the Blackhawks the NHL's lowest team goal-against average at 1.97. The last time the Blackhawks led the NHL defensively was in the lockout-shortened 1994-95 season when Hall-of-Famer Ed Belfour played 42 games as their No. 1 goalie.
Kane gave Chicago a 1-0 lead 9:34 into Friday's game.
After Patrick Sharp's shot toward an empty net deflected off the shaft of Calgary defenseman Mark Cundari's stick, Sharp jumped on the loose puck behind the net. He fed Kane, who beat MacDonald on the short side from close range.
Toews made it 2-0 moments later when he swept into the crease and popped in a rebound of Brandon Saad's shot from the slot.
The Blackhawks had several prime chances early in the second, but MacDonald turned them aside.
Butler cut it to 2-1 midway through the period with a screened high shot from 50 feet. The drive breezed past Calgary's Ben Street and got past Crawford for his first goal in more than a year.
Crawford made a point-blank pad save on T.J. Brodie in the opening minute of the third, and another close-in stop on Matt Stajan's tip-in attempt to keep the Blackhawks ahead.
Kruger extended Chicago's lead to 3-1 at 7:06 with a shot from the right circle that beat MacDonald high on the stick side. It was his first goal since Feb. 15.