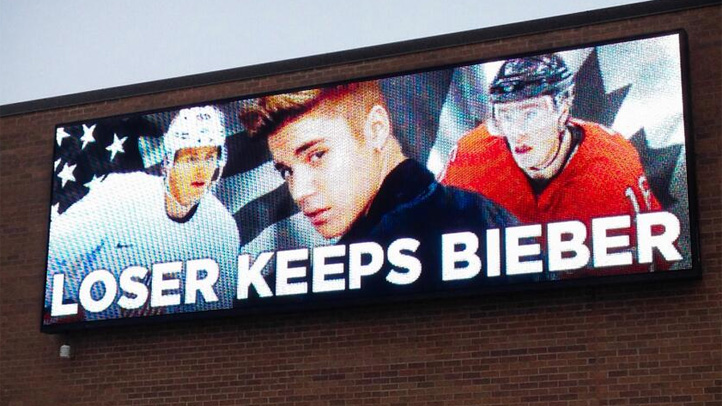 Looks like the USA gets to keep Justin Bieber.
Friday's epic USA versus Canada Winter Olympic hockey matchup could have been termed the "Battle of the Biebs," judging by the image on an electronic scoreboard that popped up Thursday near Niles Center along Chicago's Edens Expressway.

Command Transportation's billboard shows Chicago Blackhawks forward Patrick Kane -- who plays for the USA -- and Team Canada's Jonathan Toews with a picture of Justin Bieber in between them. The caption says "Loser Keeps Biebs."

Bieber, who's Canadian, lives in Los Angeles. But many Americans have called for the singer to be deported after several high-profile incidents.
Bieber is also infamous among Blackhawks fans for a controversy he ignited after the Hawks won the Stanley Cup championship last year. While the singer was in the Blackhawks' locker room at the United Center taking pictures of the trophy, he was photographed standing on the Indian head logo, prompting a huge outcry of anger from fans of the team.
After Canada won the game, 1-0, the company immediately followed up with a new billboard below.
Hey Canada, best 2 out of 3… errr… best 3 out of 5? pic.twitter.com/n7tLp8qyu0 — Command Sign (@CommandSign) February 21, 2014