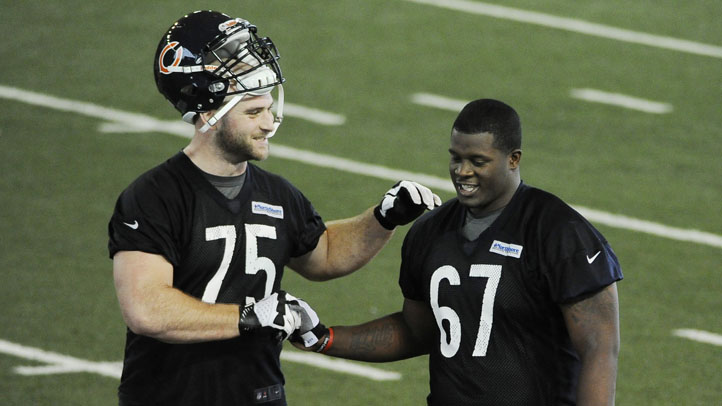 With the NFL Draft looming just four days away, Grizzly Detail is taking a look at the different positions that the Chicago Bears could address in the draft, and whether or not they need to make each spot a priority when things get underway at Radio City Music Hall.
We continue our breakdown today by taking a look at the Bears' offensive line.
The Situation:
The Bears have had a ton of turnover on their offensive line in recent years, but they finally found some continuity in the 2013 season. With rookies Kyle Long and Jordan Mills locking down the right side, and Jermon Bushrod and Matt Slauson having excellent seasons on the left, the Bears were able to not only keep Jay Cutler upright for the most part last season, but they also made some huge holes for Matt Forte to run through.
Even with that in mind though, the Bears do have a couple of areas that they could end up looking to reinforce in coming years. Roberto Garza is still in the fold for 2014, but he easily could be hitting the road after this season or next, so the Bears may have to look for a center. The team may also be willing to search for a right tackle as well, as Mills didn't have quite the season that fellow rookie Long did. He may well have a great sophomore campaign, but erring on the side of caution when it comes to a sixth round pick is probably a smart idea.
Urgency: 7/10
The Bears' offensive line is a strength, but as we just discussed, it needs improvement. There aren't a ton of options at the center position unless the Bears are willing to jump early in the draft, but with the glaring needs on defense, it seems unlikely that Phil Emery will go in that direction. Instead, he could end up drafting a guy like Gabe Ikard out of Oklahoma, who is currently projected to be taken in the fourth or fifth round. Corey Linsley could also be an option if Emery wants to go center late in the draft.
As for tackles, Emery has a lot of options. Players like Justin Britt should be around in the fifth round, as should Kevin Pamphile out of Purdue. Judging by the Bears' GM's ability to evaluate offensive talent, it stands to reason that he should be able to shuffle around players to suit the team's needs.
Round to Address Position In: 3rd or Later