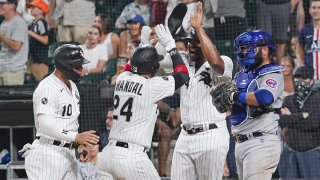 Major League Baseball's playoff field was finally complete Sunday, prompting the league to release its full postseason schedule.
Here's what White Sox fans need to know:
After winning the division for the first time since 2008, the South Siders will open the Division Series on Thursday at AL West champion Houston. The team will play Game 1 and Game 2 on the road then return to Guaranteed Rate Field for Game 3 and an if-necessary Game 4 on Oct. 10 and 11.
If the series still hasn't been decided, they're scheduled to play the series finale at Houston on Oct. 13.
The Astros beat the A's 10-4 on Saturday, claiming home-field advantage against the White Sox in the American League Division Series. The Astros seized the No. 2 seed in the AL, solidifying the White Sox as the No. 3 seed.
The White Sox fell to the Tigers Sunday as Detroit closed their fifth straight losing season with a 5-2 win.
In his postgame comments, White Sox Manager Tony La Russa praised the Astros as a solid overall team before adding that he believes the White Sox match up well.
"They're dangerous to play against; I think we're dangerous to play against," La Russa said. "I think it's going to be a competition that both teams will enjoy. We'll see who comes out best."
Associated Press/NBC Sports Chicago