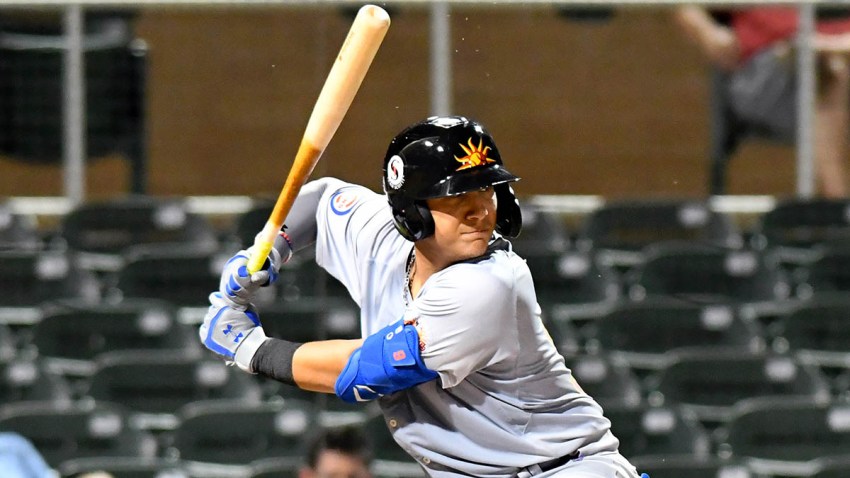 The Chicago Cubs and White Sox have some of their top prospects participating in the Arizona Fall League, and players from both teams were named to the annual Fall Stars Game roster.
The contest, which will be played at Salt River Fields in Scottsdale, Arizona, is an annual showcase featuring the top performing players from around the iconic prospect league.
The team rosters were announced on Tuesday afternoon. The White Sox have one player confirmed on the West roster for the game, with another potentially getting in via fan vote. The Cubs placed two players on the East squad.
For the White Sox, right-handed pitcher Tyler Johnson will be available to the West Squad. In five appearances for the Glendale Desert Dogs, who play their home games at the White Sox spring training complex, Johnson has allowed just two hits and zero earned runs in 5.1 innings of work.
Johnson and the West squad will take on the AFL's East squad in the annual game, and the East roster will feature Cubs catching prospect Miguel Amaya. Amaya spent the 2019 season with the High-A Myrtle Beach Pelicans, and turned plenty of heads as he hit 11 home runs, drove in 57 RBI's, and walked 54 times. He posted a .351 on-base percentage for the Pelicans in 99 games.
In seven games thus far in the Fall League, Amaya has six RBI's and has scored three runs in 29 plate appearances.
Left-handed pitcher Jordan Minch was also named to the East roster. A Purdue University product, Minch spent most of the season in Double-A Tennessee, posting a 5-5 record and a 4.69 ERA in 44 appearances. He did make one appearance for Iowa, seizing a win and striking out a batter in that lone appearance.
The White Sox could potentially get one more player onto the West roster, as outfielder Blake Rutherford will be up for the annual fan-vote. He will go up against Pirates shortstop Oneil Cruz and Dodgers shortstop Omar Estevez in the vote, the league announced.
Major League Baseball will stream the AFL Fall Stars game on Saturday night beginning at 7 p.m.