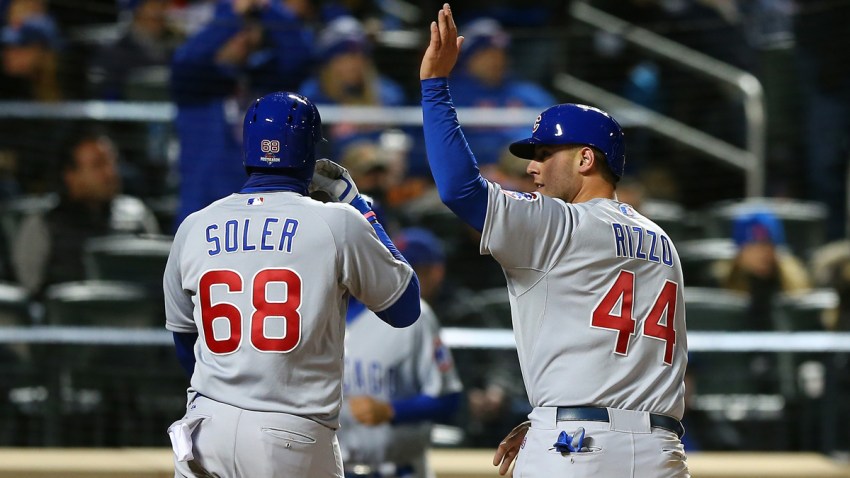 The Chicago Cubs are trailing the New York Mets in the NLCS and are in desperate need of a victory, and Joe Maddon has revealed his lineup as the team looks to take Game 3 at Wrigley Field on Tuesday night.
Here is how the Cubs will lineup against New York:
1. Dexter Fowler – CF
2. Kyle Schwarber – LF
3. Kris Bryant – 3B
4. Anthony Rizzo – 1B
5. Starlin Castro – 2B
6. Jorge Soler – RF
7. Miguel Montero – C
8. Kyle Hendricks – P
9. Javier Baez – SS
There are only a few tweaks to the lineup for the game, with Soler coming back into the lineup after sitting out Game 2 in favor of Chris Coghlan. The bottom of the lineup has also changed, with Baez batting in the ninth spot with Hendricks hitting eighth. This should help give Baez more protection as the lineup turns over, with Fowler serving as a serious on-base threat in the lead-off spot.
The Cubs, who will be going up against Mets pitcher Jacob deGrom, haven't had much luck offensively in this series, scoring just three runs and have been effectively shut down by Mets starters Matt Harvey and Noah Syndergaard. The team has just one home run in the first two games after clubbing 10 against the Cardinals in the NLDS, and they will need to get their bats going if they are going to win the game and avoid a nearly-impossible to overcome 3-0 deficit in the best-of-seven series.