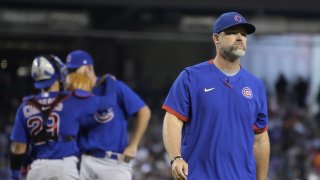 Observations: Walks catch up to Cubs in loss to D-Backs originally appeared on NBC Sports Chicago
The Cubs lost 6-4 to the Diamondbacks on Sunday, dropping to 46-47 this season.
Here are 10 observations from the game.
1. Zach Davies pitched less than five innings for the ninth time in 20 starts this season. His day ended with two outs in the fifth and two earned runs allowed. The Diamondbacks tagged him for six hits and four walks.
2. Diamondbacks starter Merrill Kelly breezed through his first five innings, holding the Cubs to one hit on 47 pitches. He threw 82 pitches in 8+ innings, allowing four runs on six hits.
3. Cubs pitchers issued 11 walks Sunday, tying a season high (also on Opening Day). Davies, Kyle Ryan, Adam Morgan, Dan Winkler and Rex Brothers each walked the first batter they faced. Brothers' walk was intentional.
4. The Cubs held Arizona to two runs through six innings despite seven walks and seven hits. The Diamondbacks loaded the bases in the fourth through seventh.
Eduardo Escobar led off the seventh with a free pass, the eighth issued by the Cubs, and came around to score, giving Arizona a 3-2 lead.
Josh Rojas led off the eighth with a walk and scored on Escobar's two-run home run, extending the Diamondbacks' lead to 6-2.
5. The Cubs made things close in the ninth. Javy Báez' RBI single drove in Kris Bryant, and Rafael Ortega delivered a double off the bench to bring Báez home, making it 6-4. Willson Contreras, who hit a go-ahead home run in the ninth Saturday, struck out to end the game.
6. The Cubs escaped one of those bases-loaded jams with an unorthodox double play in the sixth. Anthony Rizzo scooped up a Kole Calhoun ground ball and fired home for a force out.
Calhoun stopped running, and Robinson Chirinos threw him out at first, with reliever Adam Morgan covering.
7. Calhoun did his best Superman impression, robbing Jake Marisnick in the second with a great diving catch in right field. He hung in the air for a few moments before making the grab.
He flashed his leather again in the third, tracking down a Rizzo fly ball in the right field corner to take away an extra-base hit.
8. Calhoun clearly can cover a lot of ground, but Bryant's RBI double sailed over his head into the right field corner in the sixth. Bryant scored one pitch later on Báez' single, evening the score at 2.
9. Báez, who added another RBI single in the ninth and finished the day 2-for-4. He's 14-for-32 (.438) with 10 RBIs over his last eight games.
10. Nico Hoerner's afternoon ended in the fifth. Eric Sogard replaced him at second base in a double switch, with Kyle Ryan taking the mound for Davies.
On deck: The Cubs and Cardinals open a four-game series Monday at Busch Stadium. First pitch is 7:15 p.m. Alec Mills (4-2, 4.84 ERA) and Jake Woodford (1-1, 4.62 ERA) are the probable starters.
Copyright RSN