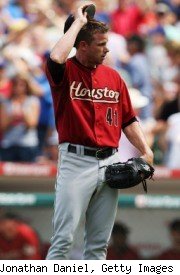 With their team on a losing streak and coming off of being swept, most managers will have their players take extra batting practice or call a team meeting to discuss things.
Chicago Cubs manager Joe Maddon is not most managers.
Instead of doubling down on his team's work habits, Maddon is instead encouraging players to stay away from the ballpark using a method he calls "American Legion Week." For the team's 7:05 p.m. game against the Atlanta Braves on Thursday night, Maddon ordered his players to stay out of the clubhouse until at least 3 p.m., and he is asking players to take their minds off of baseball and to relax a little bit.
Sign on whiteboard in #Cubs clubhouse proclaimed this American Legion week. Clubhouse closed until 3 pm for everyone — Carrie Muskat (@CarrieMuskat) August 20, 2015
When Maddon held an "American Legion Week" with the Tampa Bay Rays in 2013, the team ended up responding well as they made it into the postseason after a midseason slump. Maddon also donated money to a local American Legion post in the Tampa area.
The Cubs are currently riding a three game losing streak, having lost to the White Sox on Sunday and being swept by the Detroit Tigers in a brief two game series at Wrigley Field. The Cubs have allowed 25 runs over the past two games, but they still maintain a three game lead over the San Francisco Giants for the second wild card spot in the National League.