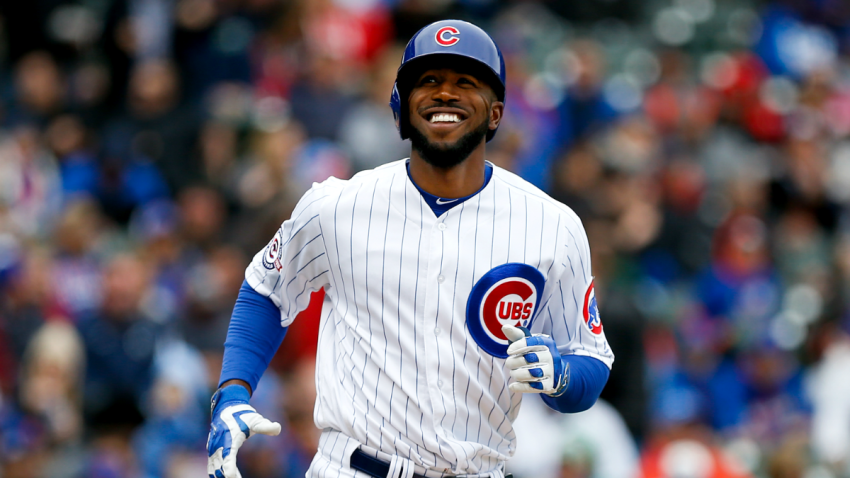 Dexter Fowler is headed from the World Series champions to their biggest rival.
The veteran outfielder who helped the Chicago Cubs end their long championship drought was introduced in St. Louis on Friday after signing a five-year deal. Fowler filled the last big hole left in the Cardinals lineup after moves made earlier in the offseason to shore up the bullpen.
"It was an honor just to be considered to be in the Cardinals organization," said Fowler, who will wear No. 25 in honor of his mentor, Barry Bonds, because his usual 24 is retired by the Cardinals.
"You play against the Cardinals, I've been playing against them for eight years now," Fowler said, "and they always come out fighting. Always fighting. And then being with a rival, being the Cubs however many times we play them a year, you see them and — it's always good a winning team wants you."
#Cardinals make it official and introduce Fowler. Guy helped deliver a #Cubs WS and made himself huge coin in the process. A win for all.

— Mike Berman (@MikeBermanNBC) December 9, 2016
Fowler was also a free agent a year ago, when he signed a one-year deal with the Cubs. But he parlayed that into one of the best years of his career, hitting .276 with 13 homers and a career-best .393 on-base percentage that landed him in his first All-Star Game.
He also had a pair of home runs in helping the Cubs win their first World Series in 108 years.
"Playing over there, and playing against the Cardinals, you see them and you saw that they weren't far away," Fowler said. "Obviously they beat up on us, we beat up on them. It was almost even. It was one day or another. I can't put my finger on one thing or another, but we're definitely close."
One of the goals this offseason for St. Louis was to get more athletic, both defensively and on the base paths. Fowler was identified early in the process as someone who filled that role.
"He was always someone we were hoping to sign," Cardinals general manager John Mozeliak said, "but after this past week at winter meetings ... we certainly wanted to get this done. And we're excited we got this done."
The lanky 30-year-old from Atlanta is a .268 career hitter over nine seasons with Colorado, Houston and the Cubs. He's expected to slot into the Cardinals' leadoff spot, giving St. Louis a switch-hitter in front of lefty-hitting Matt Carpenter and righties Aledmys Diaz, Stephen Piscotty and Yadier Molina.
"You obviously have great presence at the top of the lineup," manager Mike Matheny said. "The athleticism, the excitement of bringing in a player that has all those physical attributes, I think it's been well-said, this is the guy we were hoping to be sitting up here with."
Fowler said negotiations with the Cardinals were easy with one notable exception.
"We were on a 2-hour time difference, and I guess (Mozeliak) wanted to get in touch with me," Fowler said, "but I was in the dentist chair, so he couldn't get in touch."
So, Fowler sent his agent Casey Close a photo of him to pass along to Mozeliak — "That was a first for me, that kind of photo," the GM said — and everything proceeded smoothly after that.
The news of his signing started breaking while Fowler was on a plane to St. Louis, and that also created some problems: namely, with his sleep. People started coming up to him while he was trying to take a nap and asking him whether the news was true.
"I was like, 'Uh, you know, I don't know,'" Fowler said with a grin. "It was definitely funny."
The Cardinals were investigating the trade market for an outfielder during the winter meetings, but decided Fowler was their best option, even though they will surrender a first-round pick in next year's draft since the Cubs made a qualifying offer to him.
Still, it was a sacrifice the Cardinals were willing to make to not only improve their lineup, but snag a piece away from their biggest rival in the NL Central.
"There's always the baseball angle in all decisions, but there's also the human element," Mozeliak said. "We think about him as a leader. He wants to have a voice in that clubhouse. When you think back to wanting to change the culture of what we have going on — we like what we have, but now it's even better."
Copyright AP - Associated Press