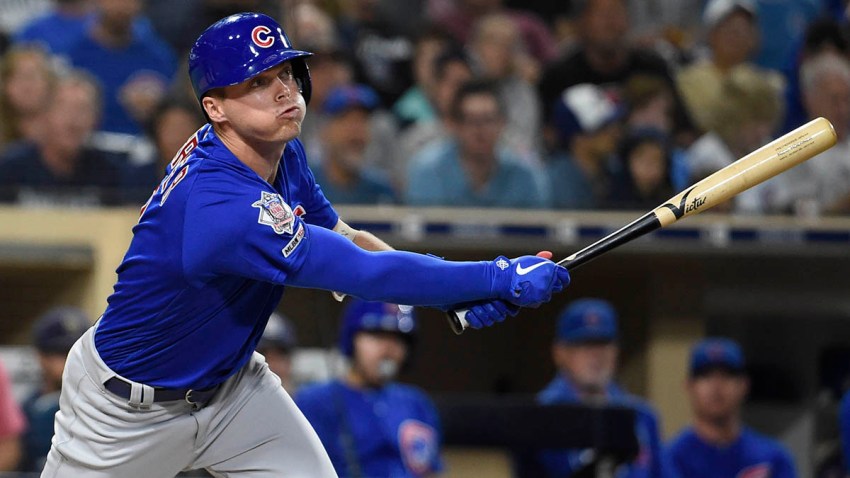 Chicago Cubs infielder Nico Hoerner made quite an impression in his first career game on Monday night, but one specific play left him in some pretty remarkable company.
Hoerner, who made his big league debut in a 10-2 victory over the San Diego Padres at Petco Park, went 3-for-5 with two runs and four RBI's in the game. One of his hits was an RBI triple, and it was that play that helped him join an intriguing club.
According to the Chicago Cubs and Baseball Reference's Play Index, Hoerner is just the third player in MLB history to record a triple in a big league debut played at San Diego's Petco Park.
While that may seem like an oddly specific bit of history, the other two players on the list make it even crazier. The last player to hit a triple in his big league debut at the ballpark was none other than Anthony Rizzo, who was playing for the Padres when he smacked his first career hit, a triple, in a win over the Washington Nationals.
The first player to achieve the feat also has a connection to the Cubs. Will Venable, currently the Cubs' first base coach, hit a triple in his debut on Aug. 29, 2008.
According to Baseball Reference, Hoerner is the 12th Cubs player to hit a triple in his big league debut, and only the third to accomplish the feat in the last 36 years. Pitcher Chris Rusin was the last to hit a triple in his debut, and Starlin Castro also achieved the feat back in 2010.