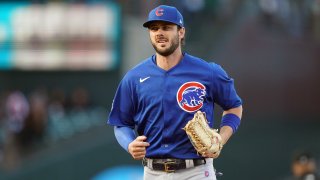 Bryant (hamstring) exits vs. Cards amid trade rumors originally appeared on NBC Sports Chicago
Kris Bryant exited Tuesday's Cubs-Cardinals game in the fifth inning, sparking all sorts of rumors before the team revealed that he had been dealing with hamstring fatigue.
Bryant has been the subject of intense trade rumors in recent days, with the league's trade deadline coming up on July 30.
After Bryant was removed from the game, fans all over the baseball map speculated of a potential trade of Bryant, one of the Cubs' top trade chips.
Bryant appeared in discomfort after making a diving catch in left in the third inning. He ranged to his left in the left-center field gap, laying out to make the grab.
Ian Happ replaced Bryant in left field.
Copyright RSN