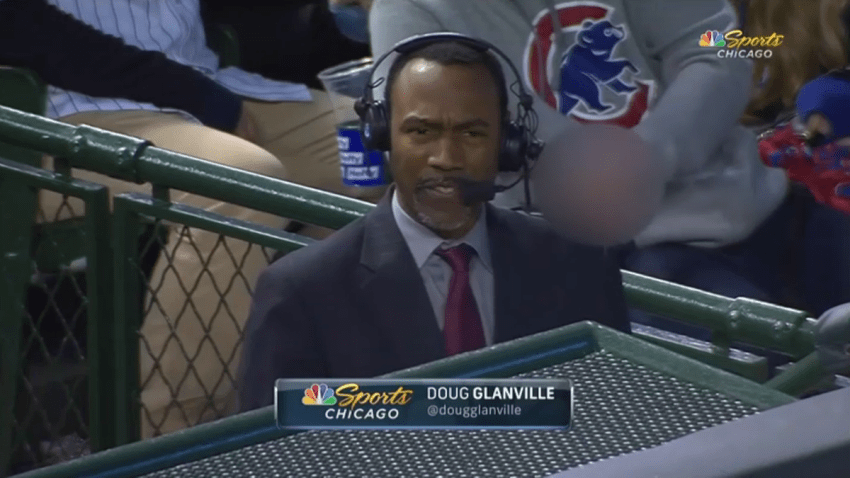 The Chicago Cubs say they are investigating a fan using what appeared to be an offensive hand gesture associated with racism behind a black television reporter who was on the air.
The reporter was Doug Glanville, a former major league outfielder who played three seasons for the Cubs.
Cubs President of Business Operations Crane Kenney said in a statement early Wednesday that the incident occurred during Tuesday night's game between the Miami Marlins and Chicago at Wrigley Field. He says a person made the gesture while Glanville was working for NBC Sports Chicago.
"Such ignorant and repulsive behavior is not tolerated at Wrigley Field," Kenney said. "We are reviewing the incident thoroughly because no one should be subjected to this type of offensive behavior."
The statement went on to say that "any individual behaving in this manner will not only be removed from the ballpark, but will be permanently banned from Wrigley Field."
Glanville said he was made aware of what happened after the broadcast.
"I applaud the responsiveness of both the Chicago Cubs organization and NBC Sports in investigating this matter," he said in a statement. "They have reached out to me and are supportive of my role in the broadcast and continue to have a desire to uphold an inclusive environment at Wrigley Field. They have displayed sensitivity as to how the implications of this would affect me as a person of color."
In a radio interview Wednesday morning on 670 the Score, the Cubs' flagship radio station, Kenney said that it is "more likely than not" that the fan was using the gesture in an offensive way, and that the team will be "taking action as a result."
"(Wrigley Field) is a place of inclusiveness," Kenney told the station. "Whether this person is going to ultimately say he intended it, that he was playing the 'circle game' or some other stunt, the judgment to use that in connection with a respected reporter who happens to be African-American doing his job...coincidence is not going to fly here."
NBC Sports Chicago Senior VP/General Manager Kevin Cross also issued a statement, calling the gesture "reprehensible."
"We are disappointed by the incident that took place on our air last evening, one that was at the expense of our colleague Doug Glanville," the statement read. "We find the behavior of this fan reprehensible and clearly does not represent the great Cubs fans of our city and those around the country. We stand by our partners at the Cubs and will support their efforts regarding the investigation of this incident."
Glanville said he supports an investigation into what happened and "will comment further once the investigation has run its course."
Copyright AP - Associated Press