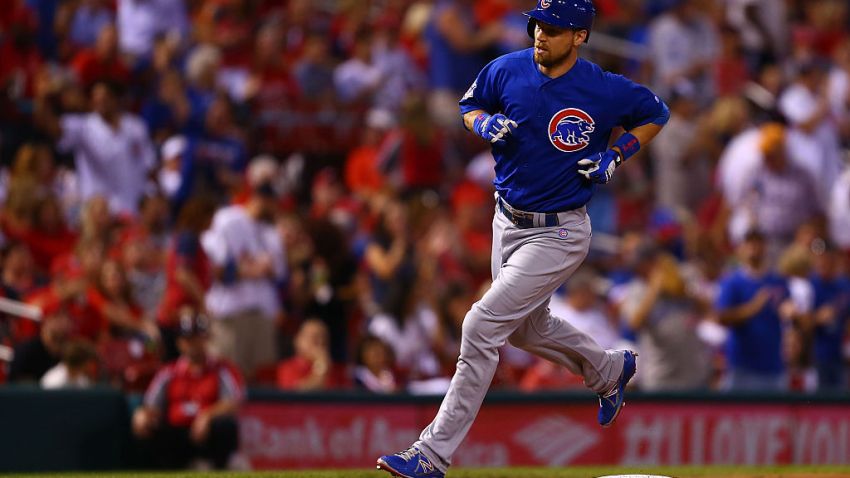 The Chicago Cubs could trim their magic number to just one on Tuesday night when they take on the St. Louis Cardinals at Busch Stadium.
The Cubs, who currently have a 17-game lead over the Cardinals in the National League Central, would guarantee at least a tie for the division title if they can defeat St. Louis in Tuesday's game. A win would leave them with an 18-game lead with just 18 games left to go in the season for both clubs.
For the game, the Cubs will send struggling pitcher Jason Hammel to the mound as he looks to reverse his recent ill fortune. In his last four starts, Hammel has given up 23 total runs, 18 of which were earned runs. Eight of those came in his last outing against the Milwaukee Brewers, where he also surrendered two home runs and 13 total hits in a 12-5 defeat at Miller Park.
While Hammel's recent performances won't fill Cubs fans' hearts with confidence, Cardinals starter Jaime Garcia has been struggling recently as well. In his last five outings, Garcia has given up five or more earned runs in four of those games, and hasn't had a winning decision in his last four starts.
To try to continue Garcia's poor run, the Cubs are going to throw out a right-handed heavy lineup against the hurler on Tuesday. The usual suspects are in the lineup, with Dexter Fowler, Kris Bryant, and Anthony Rizzo manning the first three spots in the order, but after that, things get interesting.
Here is the Cubs' full lineup:
1 Dexter Fowler – CF
2 Kris Bryant – 3B
3 Anthony Rizzo – 1B
4 Jorge Soler – LF
5 Ben Zobrist – 2B
6 Addison Russell – SS
7 Jason Heyward – RF
8 Willson Contreras – C
9 Jason Hammel – P
Jorge Soler will get back into the lineup for the Cubs on Tuesday night, playing left field and batting in the cleanup spot. Soler has not played a defensive position in a week, having played as the designated hitter in all three games against the Houston Astros over the weekend.
The Cubs will also continue working through their catchers as they begin preparing for the postseason, as Willson Contreras will get the start to catch Hammel. David Ross started for the Cubs on Sunday, catching Jake Arrieta in the Cubs' win over the Houston Astros, and Miguel Montero was behind the plate for Kyle Hendricks' remarkable performance on Monday against the Cardinals.
If the Cubs are able to win Tuesday's game, then they will control their own destiny in the Central Division for the remainder of the season. Just one more win in the team's final 18 games after Tuesday would wrap up the division title and secure a second straight playoff appearance for the Cubs.