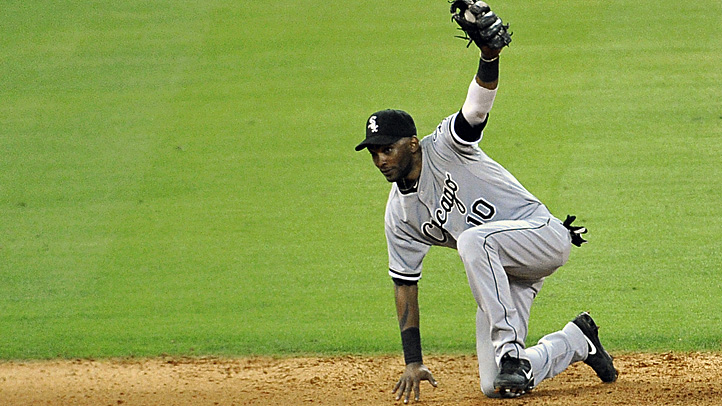 Erik Bedard pitched six solid innings, and Jose Altuve hit a go-ahead RBI single to give the Houston Astros a 2-1 win over the Chicago White Sox on Friday night.
Bedard (2-3) yielded three hits and one run with six strikeouts to bounce back from his previous outing when he allowed six runs in 4 2-3 innings.
Alexei Ramirez committed two errors in the fifth inning to help the Astros take the lead. The miscues ruined a great outing by Chris Sale (5-5), who allowed five hits and no earned runs with a season-high 14 strikeouts in eight innings.
Sale had retired 11 of 12 before Ronny Cedeno reached with no outs in the fifth on the first error by Ramirez.
Cedeno advanced to second on a wild pitch by Sale with two outs before Trevor Crowe drew a walk. The second error by Ramirez came when he badly overthrew second base on a force play, which allowed Brandon Barnes to reach, Crowe to move to third, and Cedeno to score.
Houston took a 2-1 lead when Altuve singled on a sharp grounder which scored Crowe.
Jose Cisnero and Travis Blackley combined to pitch two scoreless innings before Jose Veras threw a scoreless ninth for his 12th save.
Sale was pitching on extra rest after he was scheduled to start Chicago's game against Toronto on Wednesday, which was postponed due to bad weather. He took a third straight loss despite coming just one strikeout shy of his career best of 15.
The White Sox, who entered the game having won three of four, continued to struggle on the road and have dropped 10 of 11 away from Chicago. They have been outscored 62-34 in that span.
Paul Konerko doubled to start the fourth inning and advanced to third on a passed ball by Carlos Corporan. The White Sox took a 1-0 lead when Konerko scored on a sacrifice fly by Adam Dunn.
Casper Wells walked to start the fifth inning and got to third on a single by Ramirez with two outs. The White Sox came up empty when Bedard struck out Alex Rios to end the inning.
Bedard got into trouble in the second when he loaded the bases on a single by Wells with two outs, but he escaped the jam by striking out Tyler Flowers.
Before his tough fifth inning, Ramirez robbed Chris Carter of a hit when he made a leaping catch on a sharp liner to end the fourth.
Copyright AP - Associated Press