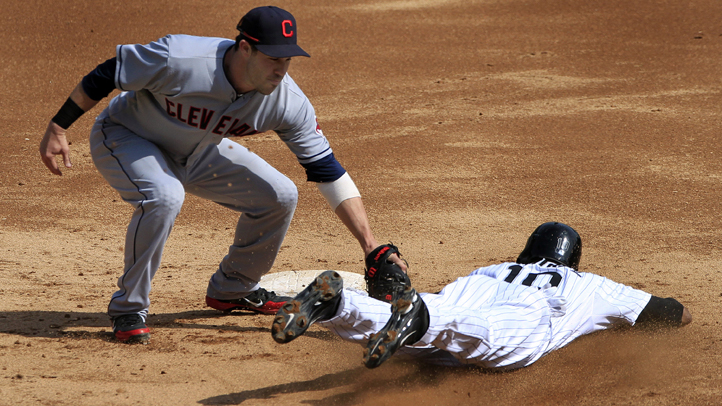 The Chicago White Sox gave Detroit an opening to tie for the AL Central lead when Gordon Beckham hit into a game-ending forceout with the potential tying run on second base Tuesday in a 4-3 loss to the last-place Cleveland Indians.
Down 4-0, the White Sox closed when A.J. Pierzynski and Dayan Viciedo hit consecutive fifth-inning home runs off Corey Kluber (2-4) and then pulled within a run when Paul Konerko homered off Chris Perez leading off the ninth.
Perez walked a pair of batters with two outs, and Beckham grounded to shortstop Asdrubal Cabrera, who threw to second baseman Jason Kipnis for the force.
Chicago (82-72) has held sole possession of the division lead since Sept. 3. Detroit (81-72) hosted Kansas City on Tuesday night.
After Wednesday night's series finale, the White Sox host a four-game series against Tampa Bay and then close with three games in Cleveland.
Detroit finishes its four-game series against Kansas City on Thursday, then winds up with a pair of three-game series at Minnesota and the Royals.
Francisco Liriano (6-12) allowed all four runs and seven hits in 3 2-3 innings. He is 1-2 with a 6.30 ERA in his last seven appearances.
Kluber (2-4) gave up four hits in seven innings, retiring nine of his last 10 batters. Vinnie Pestano and Perez completed the six-hitter, with Perez gaining his 37th save in 41 chances.
Russ Canzler had three hits and homered for the second straight game, putting Cleveland ahead in the second.
Canzler doubled between a pair of walks as the Indians loaded the bases with one out in the fourth, and Thomas Neal barely beat out a potential double-play grounder as Carlos Santana scored. Upset by first base umpire Jerry Layne's call, Pierzynski jumped up and down at home plate.
Ezequiel Carrera and Shin-soo Choo followed with consecutive RBI singles that chased Liriano.
Copyright AP - Associated Press