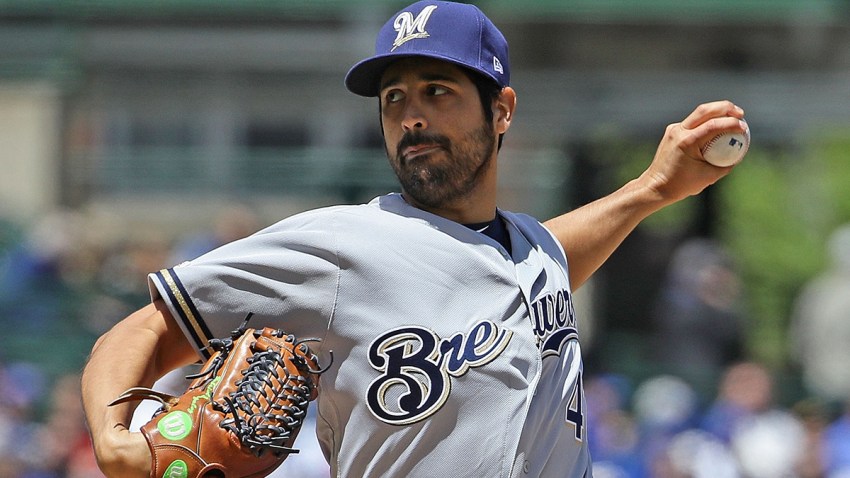 The Milwaukee Brewers' first trip to Wrigley Field since clinching the National League Central at the ballpark last season went incredibly well for the visitors, as they shutout the Chicago Cubs at the Friendly Confines.
Ryan Braun launched his eighth home run of the season in the game, and Yasmani Grandal registered a pair of RBI in the victory. Pitcher Gio Gonzalez pitched 5.2 innings and allowed just two hits and no earned runs in the winning effort, as the Brewers pulled into a tie with the Cubs for the divisional lead.
José Quintana was tagged with three earned runs despite a solid day on the mound, scattering four hits and striking out six batters in 6.2 innings of work. The Cubs' bullpen struggled as well, with Kyle Ryan and Allen Webster combining to give up four runs as the Brewers knocked off their division rivals.
Quintana and Gonzalez traded scoreless innings until the fourth, when Braun launched a home run to center field to give the Brewers the lead. That score stayed intact until the seventh, when Milwaukee manufactured a pair of runs to chase Quintana from the game. Mike Moustakas grounded into a fielder's choice to score the second run of the game, and Ben Gamel hit a sacrifice fly to left to make it a 3-0 game.
In the late innings the Brewers continued to pour it on, with Grandal picking up a pair of RBI in the frames. Jesus Aguilar also drove in a pair of runs, singling in the eighth inning and coaxing a bases-loaded walk in the ninth to make it 7-0 in favor of the Brewers.
The two teams will re-convene at Wrigley Field on Saturday for the second game of the three game set, with Cole Hamels set to take on Zach Davies in the game. Neither pitcher has lost a game this season, as Hamels carried a 3-0 record into the contest and Davies stands at a perfect 4-0.