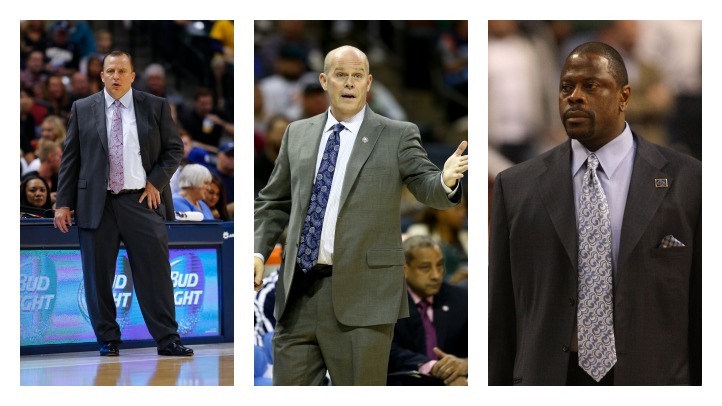 Tom Thibodeau quickly ascended to the top of the NBA coaching ranks in his four seasons in Chicago. Thibs has won coach of the year, been to an Eastern Conference Finals, finished with the league's best record two consecutive seasons, and reached the second round of the playoffs with his best player hurt and injuries to his existing players mounting.
So while all of this whirlwind success may seem like a surprise to many, it certainly doesn't surprise Charlotte Bobcats first year head coach Steve Clifford and his top assistant, former New York Knicks great Patrick Ewing.
"I think he was an exceptional coach when I first met him -- or when I first started working for him -- which would have been with the Knicks 14 years ago and he was an exceptional coach then," said Clifford before his team's shootaround at the United Center on Monday. "I think once he got his opportunity to be in charge, he showed everybody how good of a coach he is.'
"Thibs, he paved his way. He's done an outstanding job here. He's been working at this for a lot of years. He paid his dues and I'm happy for his success," said Ewing.
Thibodeau was also complimentary of both Clifford and Ewing as well.
"He's a good friend. He's worked extremely hard to get this opportunity," Thibodeau remarked of Clifford. "He's put together a great staff: Patrick Ewing, Bob Beyer, Bob Weiss, Mark Price. It's a great staff and I think it's a great opportunity for him."

Ewing, who played for Jeff Van Gundy and was an assistant under Stan Van Gundy, has quietly been working his way up to a head coaching job in the NBA. Thibodeau said with his knowledge of the game and his experience as one of the league's greatest big men, his chance will come sooner rather than later.
"I think it'll happen. He's very deserving," said Thibodeau. "Unfortunately for him, he's a guy who has done it the right way. He was a great player. You can't imagine how hard that guy worked each day to achieve the greatness that he did. He has prepared himself. He has worked under a number of great coaches. He's been with Stan. He was with Doug Collins. He was with Jeff Van Gundy. He's prepared himself well. When the opportunity comes, I think he's going to do a great job."