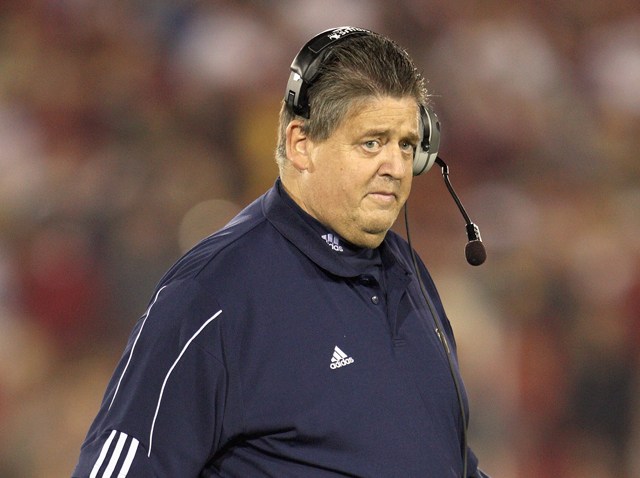 The Chicago Tribune's David Haugh is usually very reasonable and intelligent. We say usually because sometimes he does things like this, buried all the way at the end of Sunday's column on Jay Cutler:
If [Offensive Coordinator Ron] Turner is forced out, the Bears would need an independent-minded, strong-willed play-caller who is equally confident and capable with proven success coaching a Pro Bowl-caliber quarterback. Don't snicker, but there is a man 90 miles east of Chicago who fits that description and might be looking for work this winter.

As a college football head coach, Charlie Weis is a well-respected NFL offensive coordinator.

Far-fetched?

At one time so was the notion of Cutler leading the league in interceptions nine games into his Bears career.
The logic here is essentially: The Bears need a strong-willed playcaller. Charlie Weis is a strong-willed playcaller. Hence, Charlie Weis should coach the Bears on offense if/when he gets fired from coaching at Notre Dame. Oh, and if this seems far-fetched, you're right, but sometimes surprises happen, because Jay Cutler is bad. The end.

We could probably go in circles on the lack of linear thought here, but that would just be a distraction from the fact that this is a horrible, horrible idea. Like, the worst idea we've heard in a long time.
Maybe ever.
It's that bad.

Charlie Weis is not "strong-willed." He's a jerk. Let's not sugarcoat it.
And what's worse is that he's not a smart jerk. He's the kind of jerk that thinks he's smarter than everyone else but isn't, which makes him even more of a jerk for being egocentrically deluded. He has done little of note at Notre Dame besides snare big-time recruits and mold them into mediocre football teams. His 2009 schedule was supposed to be a job-saver, and with it, Weis hasn't even been able to compete for a respectable bowl, let alone for a BCS berth.

The last time Weis had any success was under Bill Belichick's wing, similar to Romeo Crennel and Eric Mangini and a host of other coaches who have been exposed as Belichick products the minute they leave the Patriots. Weis was the first, but that's more about timing than honor.

Hiring this sort of person is never a good idea. Hiring him to try to get him to co-exist with the notoriously cranky Jay Cutler is an even worse one. There are plenty of offensive coordinators out there; plenty of coaches. Pick one. But keep Weis as far away from Chicago as possible. He's done enough damage already, and he's still an hour away.

Eamonn Brennan is a Chicago-based writer, editor and blogger. He is the editor of Yahoo! Sports's college basketball blog The Dagger and a contributor to Inside The Hall. Follow him at his personal site, eamonnbrennan.com, or on Twitter.
Copyright FREEL - NBC Local Media