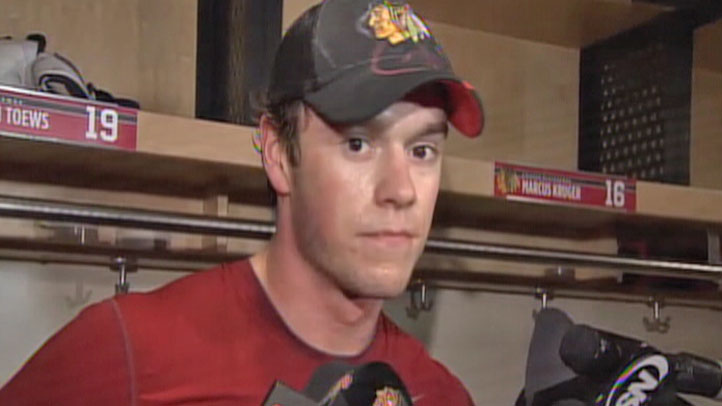 Chicago Blackhawks captain Jonathan Toews has been one of the biggest stories for the Hawks in these playoffs. Not only has he complained about the officiating after Game 2 of the team's series with the Detroit Red Wings, but he has also been nominated for several NHL awards, and yet the most notable thing about his performance is what it lacks.
Toews has seemed unable for the majority of the playoffs to put the puck in the net.
After tying for the team lead in goals in the regular season with Patrick Kane, Toews has been trying like crazy to score (he is second on the team with 28 shots on goal in eight games), and yet he hasn't been able to light the lamp. He has even come excruciatingly close, including clanking a shot off the post in Monday's Game 3 loss to the Wings.
Some people will chalk this up to a run of bad luck for Toews, and while that isn't an unreasonable conclusion to reach, the fact is that the Hawks' captain does have a track record of going through these kinds of scoring droughts, especially during the playoffs.
Here is a breakdown of his longest goal drought in each season that he has been in the NHL, including some playoff clunkers:
2007-08: 6 games
2008-09: 12 games
2009 Playoffs: 9 games
2009-10: 7 games (twice)
2010 Playoffs: 8 games
2010-11: 7 games
2011 Playoffs: 6 games (only scored once, a game tying goal in Game 7 against the Vancouver Canucks)
2011-12: 8 games
2013: 4 games
These numbers tell us two important things. The first is that Toews does have a tendency to go silent on the offensive front during the playoffs, but his overall numbers indicate that when things are going right, they go VERY right.
The second and more important thing they tell us is that the bad luck, bad approach, or whatever else a pundit chooses to attribute his offensive failings to eventually changes course. Toews is too talented of an offensive player to remain snake bitten forever, and he has proven that he can go off on a tear once he ends his goalless droughts.
For instance, in February 2013, he responded to a four game scoreless streak by potting two goals in a 3-0 victory against the St. Louis Blues. The year before, he bounced back from an eight goal drought by scoring in consecutive games. Finally, in 2008, he scored in consecutive games after starting out the season without a goal in the team's first 12 games.
Obviously, in situations like this, past performance is not indicative of future results, but at a time when Blackhawk fans are starting to get worried about the team's stars not pulling their weight, this information could be helpful to allay those concerns.