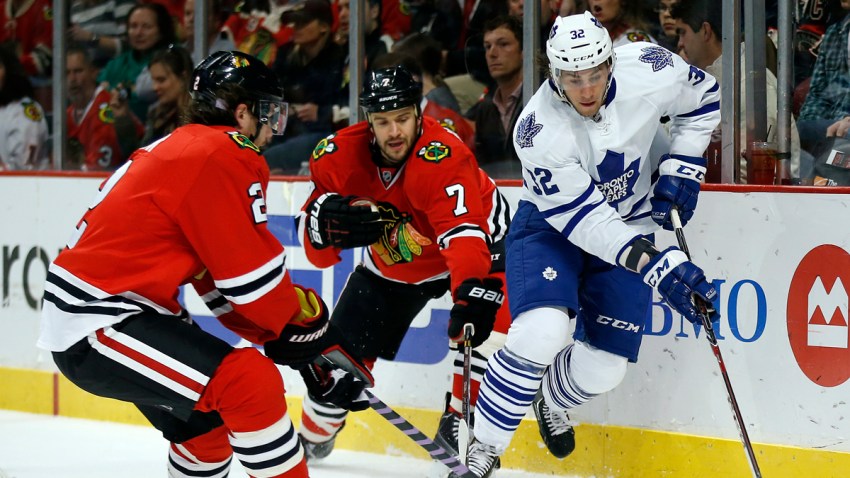 The Chicago Blackhawks had another interesting night on Tuesday, blowing a 2-0 lead in the third period before salvaging a 3-2 victory in the shootout thanks to goals by Jonathan Toews and Patrick Sharp.
That third period showcased a worrying trend for the Hawks this season, as they were outscored 2-0 in the frame and outshot 7-6. In fact, it was the fifth time this season in just nine games that Chicago has been outscored in the third period, and the fifth time that they've been outshot in that stanza as well.
The numbers don't get any prettier on closer inspection. The Hawks have blown two-goal leads in the third period this season, including a shootout loss to the Tampa Bay Lightning earlier this month and a shootout victory over the Carolina Hurricanes last week. They've also come close to giving up leads, as they did when the Buffalo Sabres outshot the Hawks 13-3 in the third period and barely dropped a 2-1 decision at the United Center.
Overall this season, the Hawks have been outshot by an 86-72 margin in the third period of games, giving up nearly 10 shots per game in that frame while only averaging eight shots themselves. The scoring discrepancy is even worse, with the Hawks only scoring three goals (all of them coming in the season's first game against the Washington Capitals) and their opponents scoring 10 times.
Those are obviously troubling numbers, but there are a couple of factors that have to be considered before we get too carried away. For starters, teams are usually going to be outshot in the final stages of games when they are in the lead, because the opposition is desperately trying to get back into the contest. In that same vein, just because a team racks up shots on goal in a period doesn't mean that they are quality scoring opportunities, so the shots statistic can be slightly misleading and should be viewed more as a measurement of who was dictating possession at a given time.
Even still, the Blackhawks not only have to do a better job of fixing what ails them in the third period of games, but they also need to do a better job of building up a bigger lead in the first place. Too often this season, the team seems to hang back when they have a two goal lead, ceding control of the tempo of the game and abandoning their puck possession game in those situations.
If they can figure out a way to keep up the pressure even after gaining the lead in games, then the Hawks will be a dangerous team, but until then, they are going to keep subjecting their fans to these roller coaster games that have become the norm for the early part of this season.