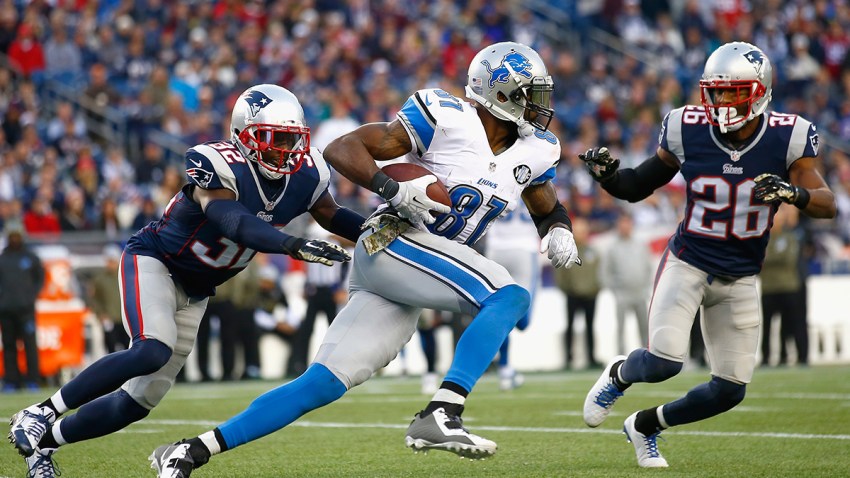 The Chicago Bears' defense put on a clinic against the Tampa Bay Buccaneers on Sunday afternoon, but when they face Matthew Stafford and the Detroit Lions on Thanksgiving, their run of defensive dominance will be in serious jeopardy.
Everybody knows that the Lions are a really good passing team, but they aren't just a one-headed monster anymore. The M.O. for the Lions used to be "throw the ball high toward Calvin Johnson, and let him come down with it." Now, that method still works (he has 38 receptions for 578 yards and three touchdowns this season), but he also has a more-than-capable running mate in Golden Tate, who leads the team with 72 receptions for 1047 yards through 11 games.
Complicating matters for Chicago is that Kyle Fuller, who suffered a knee injury on Sunday, was listed as "no participation" on the Bears' injury report for Monday, and head coach Marc Trestman didn't seem optimistic about the cornerback's chances of recovering in time to play Thursday. Add in the broken hand and hip pointer issues he's been dealing with, and you have a player who is taking an absolute beating in his rookie season.
If Fuller is unable to go, it would appear that Demontre Hurst would get the first crack at defending against Johnson, with Tim Jennings likely lining up against Tate. Neither one of those matchups is particularly appealing, even after Hurst forced a Vincent Jackson fumble in Sunday's win, and Stafford could be in for a good day against the weakened secondary.
So how can the Bears slow down the Lions' passing attack? Other than getting really good safety play from Chris Conte (who had an interception in the win over the Buccaneers) to help the corners, the thing the Bears will have to rely on is their pass rush. Stafford has been sacked 33 times this season, and the Bears are coming off a game in which they got arguably their best overall defensive line play of the season.
Pressure up the middle from Stephen Paea and Jeremiah Ratliff, as well as speed off the edge with Willie Young (who could be looking to make a statement against his former team) and Jared Allen could keep Stafford from getting comfortable in the pocket, and that alone would minimize pressure on the outside corners in this game.