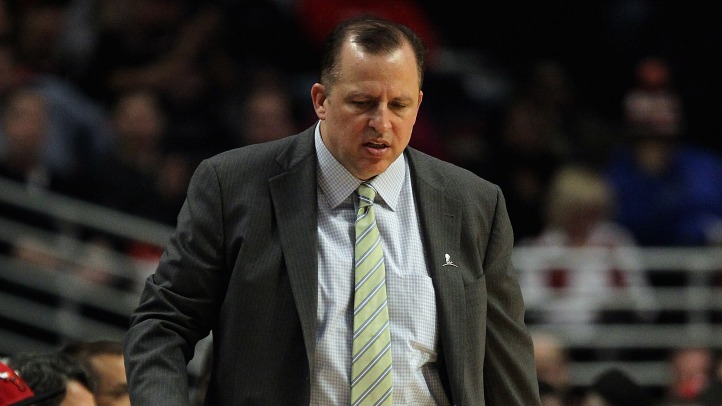 Between Luol Deng's blown layup with 6.8 seconds left in the fourth quarter that could've tied the game, or the half court shot that Mike Dunleavy Jr. hit at the buzzer that brought the final score to 83-82, it's been a brutal month of December for the Chicago Bulls.
Chicago has now lost 11 of their last 14 games, but worse still, many of the defeats have come at the hands of the dregs of the Eastern Conference. And if we're being honest, with just two wins this month and a 9-14 record, we can put the Bulls in that same list of dregs.
"We're missing a lot of layups right now, as a team. That's on me," Tom Thibodeau said after the loss. It's nice to know the head coach takes responsibility for what happens on the court, but at the end of the day, he wears suits during games, not a uniform.
"We're losing to teams that we're supposed to be beating," said Taj Gibson. "That's the way I feel. I just feel like we have to do better, including myself. This one hurts."
And it doesn't look as if the pain will be subsiding any time soon. The Bulls will travel to Houston to take on the Rockets on Wednesday night and the Oklahoma City Thunder on Thursday. OKC is the second best team in the West and Houston, the fifth.
"There is a small difference between winning and losing," said Thibodeau. "It usually comes down to one play. The mental part of it is critical. We need to understand what we are doing and everyone needs to do their job. It really is all the little things. That is what separates teams."
As has been customary, the Bulls showed a lot of fight. Down 63-46 with five minutes left in the third quarter, Chicago cut the lead to 78-67 with five minutes remaining in the game, and with 19.4 seconds left in regulation, the score was 80-79, advantage Orlando.
After Aaron Afflalo split a pair of free throws, the Bulls found themselves still with a chance to win. Then Deng's missed layup happened, and Glenn "Big Baby" Davis sank both of his two free throws to effectively put the game out of reach.
"I had a good angle, great pass by Jo. I missed the shot. I knew I missed it when it left my hand," said a dispirited Deng. "Just a bad, bad miss on my part … I missed the layup, and it's on me. Jo made a great play. Coach drew a great play, trusted me to make that shot, and I make it most of the time. I missed it today."