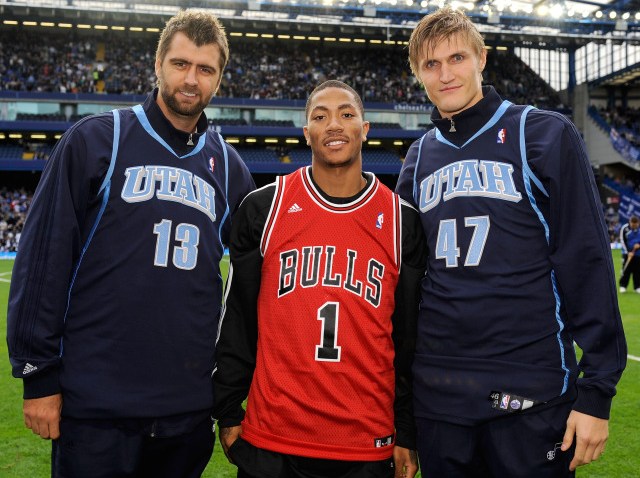 Derrick Rose is in soccer country to play basketball.
Hanging in London to play an exhibition basketball game against the Bulls, Rose has used his free time to see, along with Jazz duo Andrei Kirilenko and Mehmet Okur, the London Chelsea whup up on Liverpool 2-0.
And hey, look -- they even posed for pictures.
This is what happens when you send NBA players to London; they look awkward and out of place, and the English pack an arena on one night to watch a sport they otherwise couldn't care less about.
But will they pack the arena even if Rose isn't playing?
Rose has a sore right ankle and won't play tonight, says coach Vinny del Negro.
"I still can't run," Rose told the Chicago Tribune. "The training staff said it would heal in three to five days. At first, I was down a little bit because I thought it could be weeks or something. I'm mad I'm missing this game. I came out here for no reason. But I should be able to practice Friday."

Even without Rose, the Bulls will be looking to begin their exhibition season with a bang.
Luol Deng is returning from injury, and whether Deng manages to find his pre-injury, pre-contract form will be a major key as to whether the Bulls stay in their current station as a mediocre East team, or whether they take a leap into the upper echelons of the conference.

It's just an exhibition game, and very little about exhibition games matter, but tomorrow, the Bulls get to do two things at once: they get to entertain the skeptical British masses while at the same time give their fans at home some indication of what to expect in 2009-10. Let's hope one venture is at least as successful than the other.

Eamonn Brennan is a Chicago-based writer, editor and blogger. You can also read him at Yahoo! Sports, Mouthpiece Sports Blog, and Inside The Hall, or at his personal site, eamonnbrennan.com. Follow him on Twitter.
Copyright FREEL - NBC Local Media