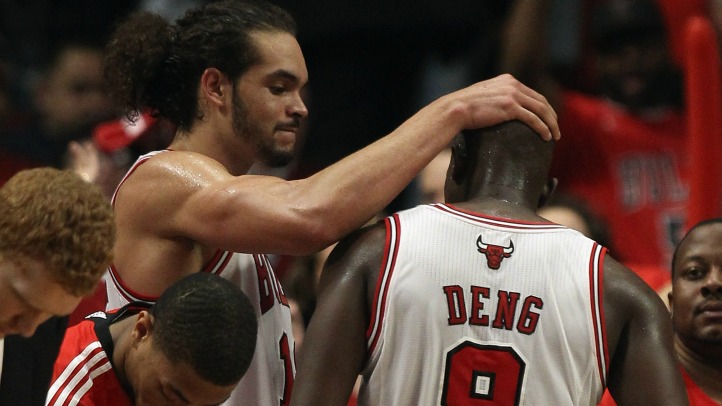 The Chicago Bulls march to the, well, we don't exactly know where they're going this year. But wherever that is, the journey begins tonight at the United Center.
Most are certain that even without Derrick Rose, the Bulls are still good enough to make the playoffs this season, while there are some who feel as if the presently constructed squad isn't good enough to even make the postseason without their superstar to lead them.
But regardless of outside opinions, internally, this Bulls team is a confident group and they're ready to once again prove the doubters wrong and those who have already counted them out.
"I think the sky is the limit," said Taj Gibson after practice on Tuesday. "It's up to us. I know we've got a lot of talent and I'm looking forward to shocking the world."
Luol Deng was even more defiant when asked about his team's confidence without their perennial All-Star and former MVP on the court with them.
"I mean, honestly, what are we supposed to say? We're competitors and no one is going to stand up here and say, 'Yeah, we've got no chance.' We practice hard. We work hard. We've been there where everyone expects you to get certain things, but nothing is handed to you in this league. We have the players to go out and win games, and we believe in each other."
Joakim Noah backed up his teammates sentiments as well.
"What makes me confident? How prepared we are, the character of this team. We all play for the right reasons," said Noah. "We're a team that's gone through a lot of adversity with our best player being hurt. But he'll be back and to me, that's exciting."
As Bulls fans, these comments should get you pumped for the season even if D. Rose won't be around. This team has a chip on its shoulder and they're motivated to prove they're more than just a one man show.