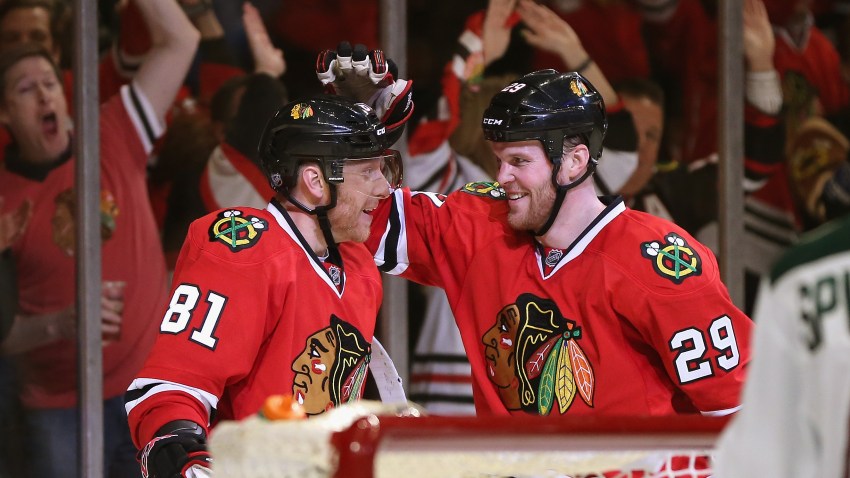 Maybe Joel Quenneville should try convincing Bryan Bickell that every game is a playoff game.
The Minnesota Wild got an intense case of deja vu on Friday as Bickell continued his tradition of playing his best hockey during the postseason. The Chicago Blackhawks ended up getting bailed out in a big way by the exploits of Patrick Kane in the third period, but it was really the play of Bickell early on in the game that set the tone and really caused the Wild fits.
Unlike in previous postseason games, Bickell didn't really engage physically with the Wild, but his offensive game was still on full display. Toward the end of the first period, the Blackhawks picked up a power play on a high-sticking penalty by Jonas Brodin, and they took full advantage of one of the Wild blue liners being in the penalty box. They cycled the puck around the zone perfectly, and Bickell immediately took up residence in front of the net on the team's second power play unit.
With Marian Hossa diving through the zone, the Wild defense collapsed in on him, and Bickell saw the play developing and immediately turned toward the point. Brent Seabrook got the puck and eventually uncorked his wicked slap shot, and Bickell somehow lifted his stick just enough to deflect the shot in past Ilya Bryzgalov, and the Blackhawks grabbed a 1-0 lead.
It was a very similar play to the one that the duo made early in Game 6 against the St. Louis Blues during the first round. Seabrook has a really hard slap shot that he can hit pretty low, and Bickell has quick enough hands that he can get his stick blade on the puck to redirect it. It's a valuable skill, and when you combine it with his huge size that makes it difficult for opposing defense to clear him out of the crease area, you have a recipe for success that the Hawks have delighted in making.
Bickell ended up picking up an empty net goal with about three minutes to go in the game, firing a shot in from center ice after Jonathan Toews fed him a quick pass, but that was merely icing on the cake for his effort. If Andrew Shaw ends up missing time because of the injury he suffered in the first period of Friday's game, Bickell might get a promotion to the top power play line, and with guys like Toews and Patrick Kane there, the big winger will feel right at home.