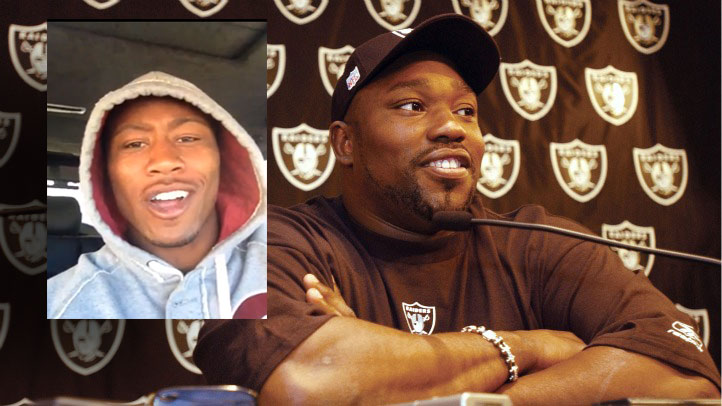 Bears wide receiver Brandon Marshall took to Twitter Monday to defend himself after an NFL analyst called him a "retard" late last week.

Marshall last year was diagnosed with borderline personality disorder and has said he wants to be "the face" of the condition.
"I usually don't do this but I think it's really important for all of us to learn from each other," Marshall said in the second of two videos posted online Monday. "You know, and I've always been one to try to use my story to help others. so this is not to destroy but to uplift whoever's watching. Sometimes we put ourselves on a platform, or we're given a platform where we can influence a lot of people and sometimes we use it the wrong way. Instead of using it to uplift we use it to destroy.

He was speaking in response to remarks analyst Warren Sapp made last Friday during an appearance on "The Dan Patrick Show."
"These kids that play the game today have no relevance for the past, have no conscious of what it is. ... I mean, Brandon Marshall talking about Shannon Sharpe, who is he to talk? He's the first 100-catch receiver, back-to-back, retard. What you just did in Denver for three years. You don't know this? No, of course he doesn't, because it's not about Brandon Marshall ... it ain't about the past, it's about me. It's about personal success, pay me, and now I'll think about being a team guy."

In Marshall's first video, apparently recorded while the wide receiver was driving, he said he was disappointed to learn of the comment but said he was going to "take this as a lesson."
"I think we all can learn from this. Be very careful who you take advice from. You want to surround yourself with good people, Godly people. When I look at Warren Sapp, I can't go to him and talk about finances because he filed for bankruptcy. I can't go to him and talk about my marriage because he filed for divorce. I can't go to him and talk about being a great father, because one day I'm going to have children, because he's not active in his children's life. The lesson that we all should learn here is surround yourself with good people and be careful who you take counsel from. I'm not saying he's been there on my side giving me counsel. But that's not a guy that I can go to. Football doesn't make us. There's more to life than just playing football. Make sure you have a great balance in your life and surround yourself with good people. And guys like Warren Sapp, I feel sorry for. So hopefully, one day he'll change his life. We'll pray for him. Instead of using words to destroy, he may use words to uplift."

Sapp later issued a statement of apology to the Chicago Tribune:

"I want to apologize to all those who I offended with my poor choice of words. I certainly meant no disrespect to those who have some type of disability or special needs."