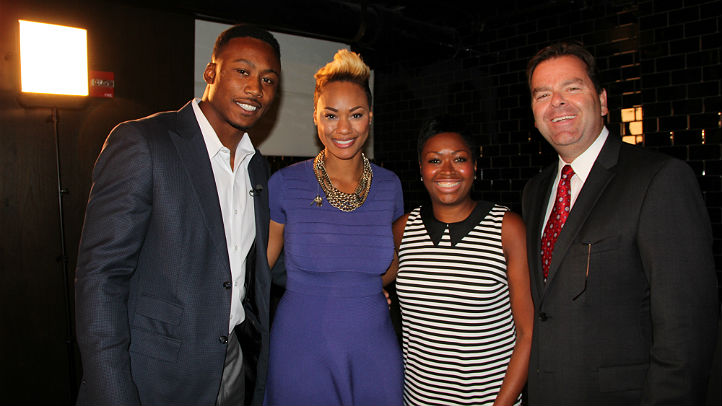 Chicago Bear's wide receiver, Brandon Marshall, will return to the NBC 5 Chicago sports team for a second year as a regular contributor to Sports Sunday. In his first season with the Chicago Bears, Marshall set franchise records for both receptions and receiving yards and his exclusive appearances on NBC 5 were winners too. Marshall's insight into the team and analysis of the game were valuable additions to Sports Sunday.

He will make his first appearance for the 2013 season on Sunday, September 9, 2013. Sports Sunday airs at approximately 10:50P following NBC Sunday Night Football Game and NBC 5 News Sunday.

"Brandon had a great season with the Bears and as a part of Sports Sunday team", said Frank Whittaker, Station Manager/Vice-President of News at NBC 5. "We are thrilled to have him back as part of our team."

"Brandon is excited to continue his partnership with NBC 5. It provides him with the opportunity to share his insights with Bears fans and collaborate with NBC 5 on Project Borderline, his charitable initiative dedicated to helping others in the community," said Andrew Stroth, Chicago-based attorney and advisor to Brandon Marshall.

A three-time Pro Bowler (2008, 2009 and 2011) Brandon Marshall joined the Chicago Bears in 2012. Previously he played six seasons with the Denver Broncos (2006-2009) and the Miami Dolphins (2010-11). His career 6,247 receiving yards and 494 receptions rank him seventh and eighth, respectively in the NFL since 2006. He was named the 2012 Pro Bowl MVP after he set a Pro Bowl record with four touchdowns catches and 176 receiving yards on six receptions.

Brandon Marshall founded Project Borderline, a nonprofit organization, devoted to raising awareness for mental illness and Borderline Personality Disorder.
Marshall attended the University of Central Florida. He played 44 career games at UCF and he ranks second in the school history in receiving yards. Brandon is married to Michi-Nogami Marshall and resides in Chicago.