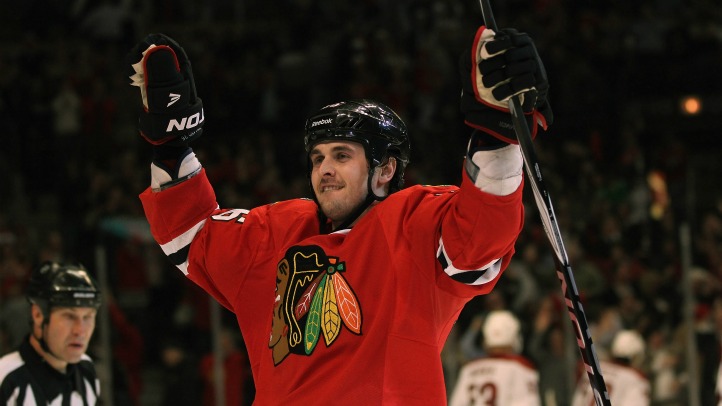 The Chicago Blackhawks are considered to be one of the deepest teams in terms of talent in the NHL, and they will even more fearsome when the second round of the playoffs begins.
That is because they will have center Dave Bolland and goaltender Ray Emery back in the fold whenever their second round series begins. Both players have been practicing with the team, and head coach Joel Quenneville confirmed after practice on Saturday that the two will be in the lineup when the playoffs resume.
With Bolland's return, however, the question becomes where to put him in the lineup. Surely Daniel Carcillo will be back in the press box for Game 1 against either the San Jose Sharks or Detroit Red Wings, but which player is going to take a bump down to the fourth line to replace him?
According to popular consensus, that player will not be center Michal Handzus. Quenneville is very satisfied with the job that he has done centering Patrick Kane and Patrick Sharp on the second line, and so Bolland will likely not resume his spot on that line when he returns to the lineup.
The more likely scenario would be Bolland taking over Andrew Shaw's spot as the center on the third line, with Viktor Stalberg and Bryan Bickell playing alongside him. That move would make sense for the Hawks, as it would pair up Stalberg's speedy offensive prowess, Bickell's physicality and deft scoring touch, and Bolland's responsible defensive play. The question, however, is whether or not Quenneville would be smart to break up arguably his most productive line of the postseason.
The answer to that question, despite Bolland's salary and the fact he was playing second line minutes when he left with injury, should be no. Bolland is a very solid player, but Shaw has more than acquitted himself as the center of the team's third line, so Bolland should be placed on the fourth line instead with Marcus Kruger and Michael Frolik playing alongside him.
The move will allow Bolland to ease his way back into the lineup while he fully recovers from the lower body injury he suffered towards the end of the season, and will still allow Quenneville to take advantage of the chemistry that his third line has displayed this year.