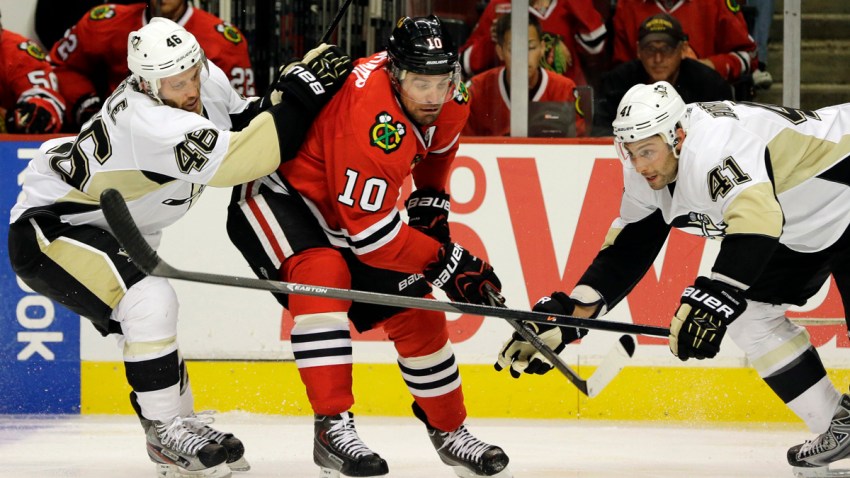 The Chicago Blackhawks on Friday afternoon revealed the jerseys that they will be wearing on Saturday, March 1st, in their Stadium Series game at Soldier Field against the Pittsburgh Penguins.
After dropping a couple of hints throughout the day, the team released this picture of Patrick Sharp wearing the new sweater:
We're excited to share the sweater the #Blackhawks will wear for the 2014 Stadium Series game on 3/1! #BackInBlack pic.twitter.com/yx4plfD3rJ — Chicago Blackhawks (@NHLBlackhawks) December 20, 2013
As you'll notice immediately, the jerseys look very similar to the Blackhawks' old third jerseys, which they wore until after the Winter Classic in 2009. The logo, which is part of the group of "chrome" logos that the league unveiled earlier this year, is designed to be lighter and easier to see in an outdoor setting, according to the team.
The Penguins' jerseys for the game left a little something to be desired too:
Thoughts on penguins stadium series jersey? Seems a bit pointless to me, personally. pic.twitter.com/OZcol68xfz — SportsBlogNewYork (@SportBlogNYC) December 13, 2013
In all honesty, we were hoping that the Hawks would show a bit more originality with the design. The possibility of bringing back the 1930's style barber pole sweaters was an enticing one, and the team also could have followed the lead of the Anaheim Ducks and Los Angeles Kings, who utilized different team logos for their Stadium Series garb than they usually use.
At any rate, fans can buy the jerseys on the Blackhawks' website soon, and for now, we ask you: what do you think of the jersey design?