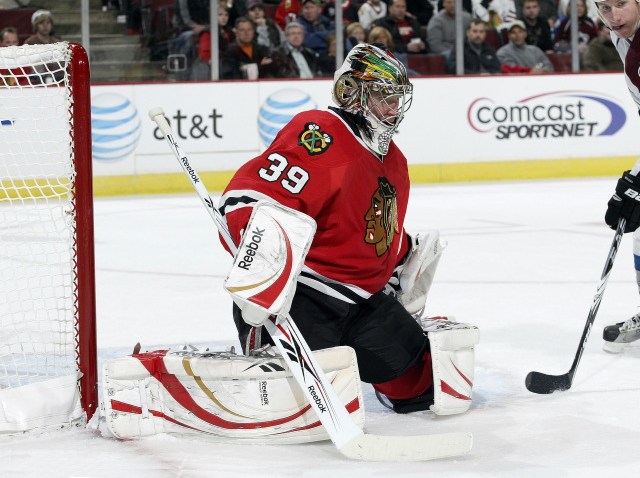 Tonight, the Blackhawks will face their former netminder, Nikolai Khabibulin, when the Edmonton Oilers come to the United Center at 7:30 p.m.
The match could have been a showdown between Khabibulin and Hawks goalie Cristobal Huet, who battled for time with Khabibulin last year and was given the 2009-10 starting job outright.
Or so we thought.

Instead, Blackhawks coach Joel Quenneville has decided to start backup Hawks goalie Antti Niemi.

There are a few obvious problems with this strategy.
For one, Niemi just isn't as good as Huet; without falling prey to a small sample size, Niemi's work in the Blackhawks 6-5 win over the Flames Monday night wasn't exactly stellar, either.
But even if Niemi is good, this has the effect of creating the same situation the Hawks had last year. A very expensive goalie will be sitting on the bench at least half the time. Last year when Huet was on the bench it meant Khabibulin was patrolling the pipes. Antti Niemi inspires much less confidence.

There's another element here, a much more short-term one, which Yahoo!'s Puck Daddy called "a slap in the face" to Huet. Because Niemi is starting tonight, Huet won't get his chance to match up end-for-end with Khabibulin. It's a minor thing, and maybe Huet doesn't care, but why not give him this much? Why make Huet watch from the boards? It seems borderline cruel.

To be fair, this strategy worked last year for Quennevile, so maybe he sees no need to adjust it now. Still, if the Hawks are planning on igniting another goalie controversy -- or even a two-man system -- tonight wasn't the best night for it. Couldn't Niemi wait?

Eamonn Brennan is a Chicago-based writer, editor and blogger. You can also read him at Yahoo! Sports, Mouthpiece Sports Blog, and Inside The Hall, or at his personal site, eamonnbrennan.com. Follow him on Twitter.
Copyright FREEL - NBC Local Media