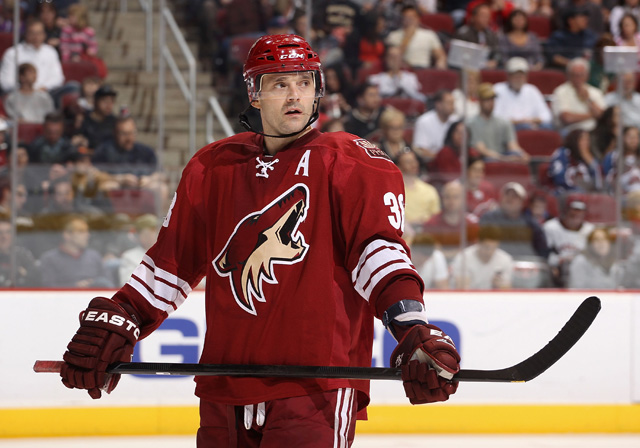 Despite their newfound financial flexibility, we can't be sure the Hawks are going big-game hunting for a top-6 forward.
What we can be sure of, and Stan Bowman has made no secret of, is that the Hawks depth is going to be addressed. The Hawks 4th line was pretty much a wasteland last season, forcing the other three to skate more minutes and leading to some heavy legs when games were on the line. Stan has made no secret that he hopes to change that.
The first spot that will be addressed is the center spot on the fourth line. We're pretty sure Ben Smith will get a wing spot there, at least to start. But the Hawks are in the market for a center who can consistently win draws and kill penalites, two things Jake Dowell couldn't do. One name that could come up is Vernon Fiddler.
While we no longer have to have our ears bleed when the Nashville announcers would proclaiim, "Fiddler roofs another one!" as he was plying his trade in Phoenix the past two years, he would provide something the Hawks haven't had in a while. That would be a genuine pest. Adam Burish thought he was one, so did Tomas Kopecky. But Fiddler actually does get under the opponent's skin, not just make them laugh.
But Fiddler is more than that. He scores slightly more than a normal 4th liner would, giving you about 10 goals and 30 points per year. He's a great faceoff guy, winning more than 53% last season. He didn't have a great penalty killing year last year, but that's partly due to the Coyotes unit being residents of Mediocre Town for most of the season. The year before that he was stellar.
This is pretty much exactly what the Hawks have been looking for. He's better than anyone outside John Madden who has skated on the 4th line the past three seasons, and far younger than Mad Dog was. He made $1.1 million last year, and will probably get a small raise from someone. Anything north of $1.5 would be far too much, as there are other options out there. But the signing of Fiddler along with Ben Smith would give Coach Q a bottom line that he could trust completely.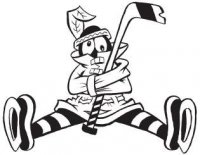 Sam Fels is the proprietor of The Committed Indian, an unofficial program for the Blackhawks. You may have seen him hocking the magazine outside the United Center at Gate 3. The program is also available for purchase online. Fels is a lifelong 'Hawks fan and he also writes for Second City Hockey .