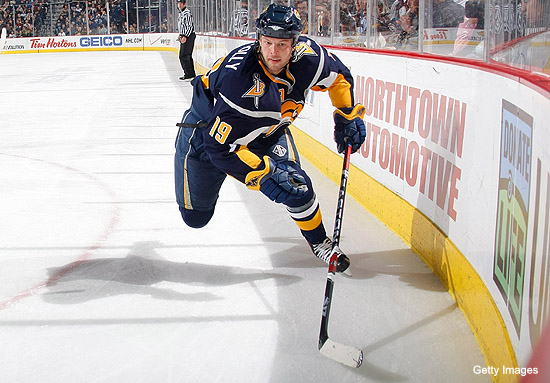 A lot of what the Hawks want to do this summer depends on what they're going to do with Patrick Sharp. Is he going to be deployed at center or wing? Are they going to bounce back and forth again, depending on the wind and his mood (sometimes one in the same)? If they decide he's a full-time winger, then they're going to need another center to compliment Dave Bolland and Jonathan Toews, as well as possibly sparking Marian Hossa. But the options at the hockey street fair aren't all that glittering.
There's Brad Richards, and past that not much. One option is Tim Connolly, from Buffalo. But he comes with far more questions and risks. What you can't question is Connolly's talent. There are few better pairs of hands in the league than Connolly's. He's been basically a point-per-game player for the past four years, but never cracking 20 goals. He lives to make plays, which is what Hossa would seem to be crying out for.
But that talent doesn't do you any good if it's sitting in a dark room somewhere trying to keep the noise down. Connolly has had about the worst concussion problems of anyone in the league. He hasn't completed more than 80 games since 2003, and has only managed more than 70 once in that span. Worse yet, he suffered another concussion during this spring's playoffs, courtesy Mike Richards, and you can't say for sure that he'll be over the symptoms when the season starts, due to the sheer amount he's had.
That said, the injury concerns should keep his price down. Connolly made $4.5 million last season, and unless one of the beneath-the-floor teams throws silly money at him because they have to, he won't get that again. You could probably have him for around $3 million. But you'd have to know there's a chance he can complete 65+ games, and it's hard to get that guarantee when his brain might be pancake batter. In a vacuum, Connolly would be the perfect playmaker to get a season-long explosion from Hossa. But if you can't guarantee that he won't be waylaid by a stiff breeze off the lake, it's probably best to pass.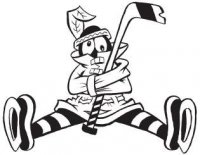 Sam Fels is the proprietor of The Committed Indian, an unofficial program for the Blackhawks. You may have seen him hocking the magazine outside the United Center at Gate 3. The program is also available for purchase online. Fels is a lifelong 'Hawks fan and he also writes for Second City Hockey .