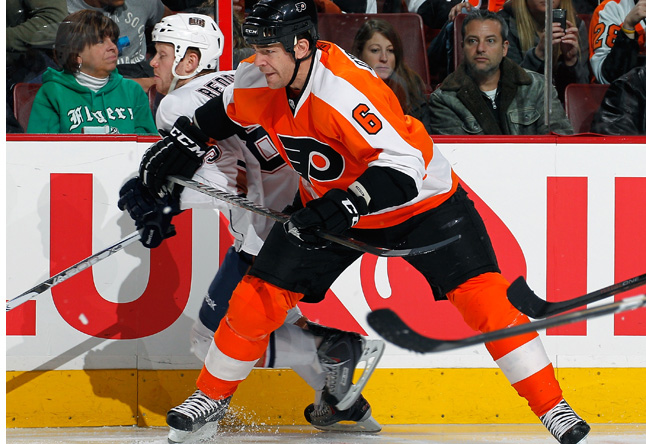 Often at my home blog of Second City Hockey, when we lamented the signings of John Scott or Fernando Pisani or Nick Boynton or a couple others, we would bemoan how it cost the Hawks a genuine bottom-pair defenseman. A mistake they didn't correct until the trade deadline. And the name we continually brought up that could have been acquired was that of veteran Sean O'Donnell.
O'Donnell played all but one game for the Flyers last year, with one goal and 18 points. He was a solid presence for that team, and was their second best penalty killer on the blue line. Moreover, O'Donnell provided yet another veteran voice. To boot, it would have been a veteran voice that has defended a Cup before. O'Donnell won with Anaheim in 2007, and the Hawks clearly missed someone who knew what was involved in coming back after a season like that. If there had been a voice that spoke up when the Hawks were floating through the motions early in the year, might they have kicked into gear sooner?
So should the Hawks correct this mistake? Maybe. O'Donnell will certainly be cheap. He only made 1.1 million last year and probably won't even get that this year. He probably won't be back in Philadelphia, who now have to cut costs after their signing of Ilya Bryzgalov, though maybe his affordability will see him stay and higher priced defensemen go.
Age shouldn't be a concern. Even though O'Donnell wil be 40 shortly after the season kicks off, it has been eight years since he played less than 70 games. The dude is durable, and wouldn't be asked to skate much more than 15 minutes a night anyway. That's exactly what he did in Philly last year.
O'Donnell is a beefed up version of Brent Sopel. A little bigger, a little nastier, a little more savvy. He might have trouble keeping up with the Hawks tempo, but did all right with the Flyers who play at the same pace. Plus, he'd only be asked to be centerfield for Nick Leddy here, something he was built for, and thus wouldn't have to be leading the rush or anything. If the Hawks are looking for a dependable rock to anchor the bottom of the defense, they could do a lot worse.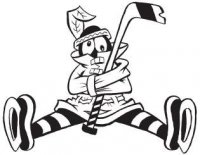 Sam Fels is the proprietor of The Committed Indian, an unofficial program for the Blackhawks. You may have seen him hocking the magazine outside the United Center at Gate 3. The program is also available for purchase online. Fels is a lifelong 'Hawks fan and he also writes for Second City Hockey .