Hawks fans, at least the ones not getting enough oxygen, used to worship a defenseman named James Wisniewski (currenty a Canadien). The idea of Wiz was wonderful, though the reality never quite matched up. The idea was a metal-listening, grinning like a maniac reckloose who would run all over the ice turning opposing forwards into paste and then would blast home a slap shot so hard it altered the curvature of the Earth. The reality is that Wiz was positionally helpless, got caught out way too often, and his shot took so long to get off most wounded animals could get in the lane in time to block it. However, Scott Hannan -- minus the offensive game -- is the reality of that idea.
Hannan is a large man at 6-1 225. And it's 6-1, 225 of snarling attitude. Hannan will happily put you through the boards. He won't let you hang around the crease, and isn't afraid to throw himself in front of rushing vulcanized rubber.
It was thought when Hannan was in Colorado that he was probably finished. He couldn't keep up with his incredibly quick teammates, and was a turnstile in his own end because the Avalanche didn't have anyone to cover for him. When he was traded to Washington, we all kind of laughed because the Caps were just about as defensively attentive as the Avs. It was thought that Hannan would be even more exposed in a more offensive conference.
But Bruce Boudreau got the Caps to commit to the defensive side, at least during the regular season, and that shielded Hannan. And because of a raft of injuries on the Washington blue line, Hannan was forced to take on far more responsibility than anyone wanted. And he didn't let anyone down.
The problem with Hannan is cost. He made $4.5 million last year, and is on the open market this summer. Now, you'd think that a d-man who only scored one goal and 11 points last year wouldn't be taking out his own bank safe. Hannan certainly won't approach the salary he made last year. But teams love a veteran d-man with size, and could easily eclipse $3 million per year. A similar d-man, Francois Beauchemin, cashed in 3.5 on the open market two summers ago.
If Hannan gets that much money, he's probably out of the Hawks range. They already have four d-men they're paying north of $3.5 million, and Chris Campoli may ask for more than 2 million as well. If Hannan doesn't drive a bidding war though, he could be brought in at a reasonable price, protect Nick Leddy on his learning curve. Unlikely, but not out of the question.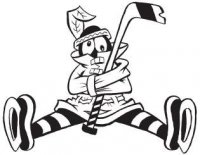 Sam Fels is the proprietor of The Committed Indian, an unofficial program for the Blackhawks. You may have seen him hocking the magazine outside the United Center at Gate 3. The program is also available for purchase online. Fels is a lifelong 'Hawks fan and he also writes for Second City Hockey .