In his time as General Manager of the Chicago Blackhawks, Stan Bowman has appeared to try to stock his entire defensive unit with quick, small guys who can move the puck. If this were the old Ice Hockey game on Nintendo, Bowman would pick all skinny guys. But you can't win in the NHL doing that. You need at least one guy who is able to block a shot and clog up an entire shooting lane, who can clear the crease of screeners, and occasionally punch a guy in the back of the head. Kent Huskins can take care of at least two of those three things.
Huskins hits unrestricted free agency this summer, after two years in San Jose that followed three in Anaheim. It took a while for Huskins to reach the NHL, not making his debut until the age of 27. But once he did, he was there every game during the Ducks run to the Cup in 2007, playing in all 21 games in those playoffs.
That's a continuing theme. Huskins had skated regularly for three different conference finalist. But this past year, Huskins only entered the lineup when San Jose's promising youngster Jason Demers was crocked. And Huskins didn't look good trying to fill those minutes, as Vancouver ran right by him most of the time.
The positives on Huskins is that he'll be real cheap and can fill a role. He won't make much more than the $1.7 million he earned last year, and will probably not even get to that. While he wasn't always in the lineup for the Sharks, the bevy of speed the Hawks have on defense could cover for his admitted, sloth-like movement. The Sharks didn't have anyone to cover for him on the third pairing. The Hawks will have either NIck Leddy or Chris Campoli there.
The negatives are that Huskins looked out of place against a team with skill like Vancouver. However, he hadn't played in six weeks before trying to get out there and cover what was the league's most lethal team at that point (before their fans became lethal). What worries you is that he was sat for so long.
Huskins won't help you offensively at all, but could be a low-risk signing. He could be brought in specifically to take the John Scott slot, i.e. the 7th d-man who can play his way into the lineup over whoever is brought in to start as the No 6. And it would also mean John Scott is out of our lives, which no one would complain about other than the Scott family. Signing Huskins wouldn't be a shooting for the moon transaction, but possibly a low-risk, floor signing.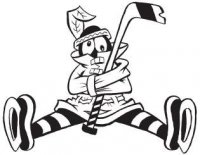 Sam Fels is the proprietor of The Committed Indian, an unofficial program for the Blackhawks. You may have seen him hocking the magazine outside the United Center at Gate 3. The program is also available for purchase online. Fels is a lifelong 'Hawks fan and he also writes for Second City Hockey .