Bringing the former Hawk home would be a nice story.
Brent Sopel's family is still here, and no one loved playing in Chicago more than Sopes. And after his acceptance of an invitation to be in the Gay Pride Parade, we Hawks fans love him too, or are at least appreciative of him doing what hadn't been done before.
But does bringing Sopel back make that much sense?
Sopel split last year between Atlanta and Montreal. He was decent in Atlanta, managing a +7 in 58 games. He was a -1 with the Habs. He was pretty effective in their first round series with eventual champion Boston, but still ended up a -2 in the seven games. Sopes was also a +.38 in Behind The Net Rating.
Sopes had a strange career in Chicago. He came here basically on a tryout in '07-'08, and earned a contract. That year, where the Hawks barely missed the playoffs, he was a revelation. That earned him a ridiculous contract, the type that Dale Tallon couldn't help handing out. The following year, he was a clown act on acid. It was a wonder he got his skates tied on right. This was before he had to miss the whole year with surgery on both elbows by Christmas. He was the first name mentioned as a launch-candidate because of his salary and performance before the Cup year.
As things tend to do with teams that win it all, Sopel's performance and importance got just a tad inflated. Yes, he was a total meatbag on the penalty kill, where he blocked roughly 4,583 shots without his ribs turning into putty. But he was a #6 d-man, nothing more. He didn't get the Hawks killed, generally kept things tight, and didn't bother with an offensive game.
That's kind of what #6 d-men do. They're your middle relievers. From year to year, you don't really know what you're going to get. If they're on, you have a wonderful defense. If they're not, things get shaky but you can survive.
The appeal of Sopes, other than the memories, is he would probably take a massive cut to come back. He made $2.2 million last year, but you can be sure he'd take around $1 million to be a Hawks again. So it's a question of if the Hawks want to take a step back. Sopes is what he is, but rarely does the second go-around go as well as the first. The Hawks just might want to keep looking forward.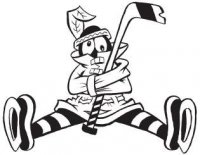 Sam Fels is the proprietor of The Committed Indian, an unofficial program for the Blackhawks. You may have seen him hocking the magazine outside the United Center at Gate 3. The program is also available for purchase online. Fels is a lifelong 'Hawks fan and he also writes for Second City Hockey .